The themes from last week carried through to Dance Moms Season 4, Episode 15, as the girls continued to pay dance tribute to Abby's ailing mother, Maryen Miller, and the dance moms continued to feel the pressure looming from the imminent arrival of Abby's new rival competition team.
Abby, still dealing with all the emotions that come along with saying goodbye to a parent, choreographed dances for the girls that paid homage to her mother and her love of dance.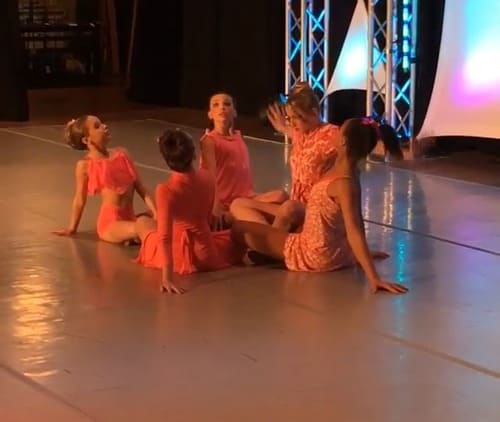 She handed out two solos, one for Maddie and one for Chloe, as well as a group routine sans Mackenzie, who already had a music video to shoot for her song, "It's a Girl Party!" (currently available on Itunes if you're interested!).
Mackenzie, better known as the artist Mack-Z, shot the video in her bedroom with everyone on the dance team serving as her "backup" dancers, besides Chloe (I use "backup" in quotes, because Maddie definitely didn't seem to be backing up her sister, instead dancing in front of the bed her sister stood atop).
And I'm not entirely sure why Chloe wasn't invited to participate. She was cut last week at tryouts, but I still don't think an actual reason has ever been given as to why.
I'm sure if Melissa had it to do over she would have much rather had Chloe there instead of Sarah, whose mom ("Christy with Y") she can't stand. "Christy with a Y" took advantage of her newly given screen time to stir up some trouble at the Mack-Z video shoot. She asked Melissa and the fellow dance moms how they felt about the new competition team Abby was creating, one "Christy with a Y" definitely thinks her precious Sarah, who beat Mackenzie in junior competitions, should be a part of.

Threatened by the notion of Maddie not being the center of attention for once, Melissa flipped out on Christy refusing to stand for any of her blasphemous talk, quickly jumping from asking "Christy with a y" to leave her home to threatening to call the cops on her. Clearly, the pressure of this new competition team got to Melissa the most this week.

With the Mack-Z video in the can, Abby spent the rest of the episode either spending time with her mother, correcting Nia in the group dance, or helping Maddie with her solo.

As usual, Chloe got the short end of the stick - her privates were canceled and she got no time with Abby. How exactly is Chloe supposed to get any better when she continues to get no real attention paid to her? It certainly doesn't help matters when supposedly, according to Christi, Maddie told Chloe she wasn't very good. How could you Maddie?!

Christi, also suffering from "new dance team"-itis, lashed out on Melissa for Maddie's words, going as far as to say she didn't think this team was actually a TEAM, especially since Brooke and Paige, and bff dance mom Kelly, are no longer on it.

I agree, Christi! Chloe and Nia, with Brooke and Paige, banded together to make up a smaller group of under-appreciated and under-valued dancers. Now with Brooke and Paige gone, the team has become much more segmented. Holly obviously agrees, claiming Nia has recently felt like the "Tito" (Jackson 5 reference!) of the group.

With the team now feeling more fractured than ever and the "new team" headed to ALDC to possibly create even more of a divide, it was important  to the dance moms and their girls to show Abby they are already the "dream team" she desires. But going up against one of ALDC's biggest rivals, Studio Larkin, wasn't going to make that task any easier.

Competing at the Masters of Dance Arts in Buffalo, New York, Maddie performed a musical theater piece, titled "Come to the Cabaret," Chloe performed a 50's inspired musical theater piece, titled "Friday Night," and the group performed Maddy's reworked winning nationals solo, "Amazing Grace" - all, of course, in honor of Mrs. Miller.

Maddie's solo was good; she utilized her face well and stayed in character throughout her dance. Chloe, like Christi said, looked the part but her choreography simply wasn't competitive enough, and the group routine was beautiful and heartfelt.

The only thing standing in the way of a 14th straight group routine win was the equally as beautiful Studio Larkin piece, "Tears of an Angel," which ironically or maybe not-so ironically, also paid fitting tribute to Mrs. Miller.

Maddie got first (no surprise, there!), Chloe got fifth (she deserved a better dance), and the group routine got....SECOND (behind Studio Larkin)! WINNING STREAK OVER.

My immediate reaction was oh god, what's Abby gonna say?! Shockingly, Abby took the loss well, commending the girls for honoring her mother. But we all know how Abby can be.

She was okay with the loss this week, but come next week, when her precious "new team" arrives, that loss will be felt by all.

So hold onto those dance shoes, ladies and gents, because by next week, nothing at the ALDC will ever be the same again. Get ready for some chaos.
Are you excited about the arrival of the new dance team?