Viewers are still buzzing over the Once Upon a Time Season 3 finale, most notably those final few moments.
Yes, TV Fanatics, that really was Elsa from the billion-dollar blockbuster Frozen.
What role might she play on the ABC drama this fall? Where will various Once Upon a Time romances head?
Visit TV Guide for a full interview with executive producers Edward Kitsis and Adam Horowitz and scroll down for excerpts from this post-mortem Q&A::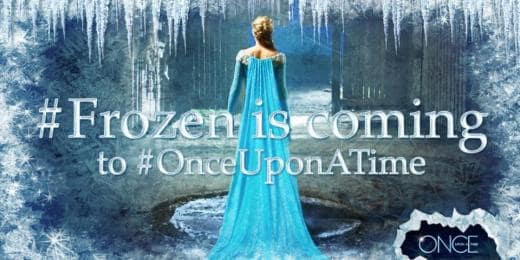 Has Elsa been cast yet? No.
Will she serve as a villain? "She was never a villain. She was only thought to be. For us, that's powerful," Kitsis said, with Horowitz adding: "We truly want to honor the character that everybody has fallen in love with so quickly. When you see how our interpretation of her and what we do with her, you will see that's exactly what we're trying to do."
Will other Frozen characters appear on Season 4? Yes, that's the plan.
Will Robin Hood struggle with his feelings between Regina and Maid Marion? Absolutely. "The journey of Robin and Regina is something we really want to explore when the season starts," teases Horowitz.
What about Emma and Hook? "What we saw in the finale was the beginning of something, which could go in many different ways and many different avenues down which they could go," says Horowitz.
What will raising Neal be like for Charming and Snow? Says Kitsis: It will be interesting for them to have a newborn because we've never seen them have that experience... Don't forget - they both share one heart. We still have to dive into what that means."
What did you think of the finale, Fanatics?
And, it must be asked, who do you think should play Elsa?
UPDATE: Elsa isn't the only character from Frozen coming to Season 4!
Matt Richenthal is the Editor in Chief of TV Fanatic. Follow him on Twitter and on Google+.