The Originals Season 2: A New Hybrid, A Stunning Return & More!
Matt Richenthal at .
So... The Originals Season 1 finale was fairly eventful, wasn't it?
Hayley turned into a Hybrid. The baby (named Hope!) was given to a returning Rebekah (EEK!!!). Francesca took over the French Quarter. And both Mikael and Esther returned to the land of the living.
To help make sense of it all, and to look ahead to The Originals Season 2 (it's never too early, is it?), TV Line spoke to producer Julie Plec after the finale, peppering her with a number of key questions.
Read the full Plec interview now and scroll down for a few highlights...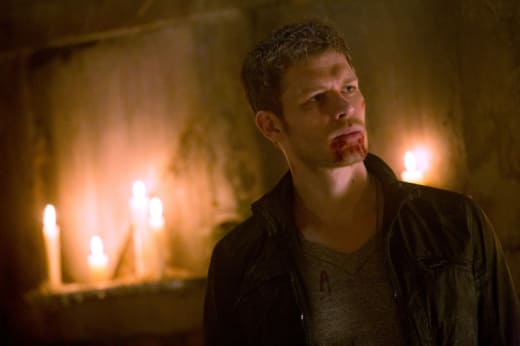 Will we see Rebekah again? Yes. Plec confirms she won't be anywhere close to a regular, "but we'd definitely like to check in on her every now and again."
Which child was with Esther? Kol or Finn? "He seemed very straight-laced and tamed and pious. So of the two brothers, if we were picking one, I know who I'd pick," Plec teased.
Will Ester and Mikael meet again? Yes, within the first few weeks of Season 2. Says Plec: "It's kind of fun because you've got these two really nasty entities from Klaus' upbringing, both of whom are back in town. The shock when he realizes it's not just one, but also the other, is going to be pretty great."
Hayley as a Hybrid?!? Look for this transition to affect her bond with Elijah. "Her identity crisis is definitely going to drive a bit of a wedge in between them, only in that Elijah is always the one who wants to help, and she's so tender and not of herself, that she's having a hard time accepting help and wanting to be fixed."
And, finally, what can we expect from Mikael and Davina?
The former's situation will "put him in a place where he has to be submissive to her... they're going to spend a lot of time together, which could come up with an interesting dynamic... We talk a lot about the Hound and Arya from Game of Thrones when we talk about them. I think it's going to be a fascinating relationship."
Matt Richenthal is the Editor in Chief of TV Fanatic. Follow him on Twitter and on Google+.