It was a big week in Salem with Eve Donovan's return, Sami plotting revenge and Daniel and Jennifer imploding. Let's recap all the drama from this week's Days of Our Lives.
I remember Eve Donovan back in the day. Teen hooker with a heart of gold. Well, maybe not gold. Perhaps a little tarnished brass... but I always held a soft spot for her. Daughter of Shane Donovan and his once upon a time ISA agent lover Gabrielle Pascal.
Eve's road has never been easy so why should things change now?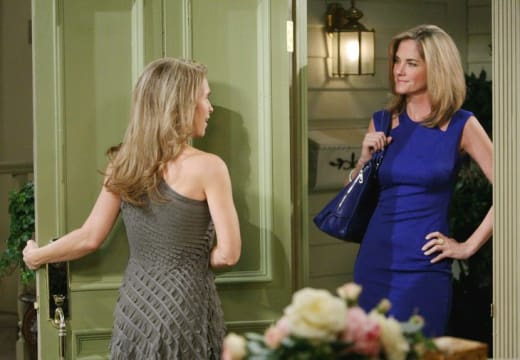 Not only did Eve try and break up Shane and Kim, she later was involved with both Frankie and Jack, putting her and Jennifer on opposite sides. I'm not sure how I feel about them going down that road again if Eve sets her sights on Daniel but we'll get back to that.
The big reveal is that Eve is Paige's mommy. Now the big question is…who's her daddy? Timeline wise Frankie could make sense but I wouldn't put it past Days to throw us a twist by making Jack the daddy. If Paige and JJ are the same age it just doesn't work but it wouldn't be the first time the show indulged in some creative history. That would also give Paige (and Eve, if Paige isn't 18 yet) a stake in all of the money from Jack's book we've been hearing so much about all of a sudden.
But let's talk about the latest implosion of Daniel and Jennifer. Daniel's brooding. Jennifer's whining and I'm still enjoying this more than having these two cooing at one another 24/7. Back when this couple first got together I thought I was going to like them but the reality is that they bore me to tears. 
I was actually proud of Dr. Dan for making a stand. Jennifer doesn't trust his judgement and whether she has a point or not, that's a hard thing to live with.  Plus Jennifer has kicked him to the curb so many times for so many different reasons that it's kind of fun seeing the tables turned. I'm not sure where the show is going with this but for now I'm grateful for the Dannifer reprieve.
Hope and Aidan got friendlier if not downright cozy. Aidan's got the most adorable puppy dog eyes when he's trying to work the charm. It's really hard to resist. I just hope that the show finds a way to write out Bo permanently if Peter Reckell isn't coming back so that these two might have a shot at a real future.
Nicole and Victor vied for best lines of the week. We'll start with Nicole…
Marlena had to have her say once again and when she pushed Nicole's buttons she got more than she bargained for in this Days of Our Lives quote…
So you can forget about being momma of the priest again. You're just going to have to settle for being the bitch who unleashed Sami on the world and Eric can kiss his holy orders goodbye.

Nicole
Perhaps Nicole feels that there's no hope for her and Eric and wants to get in a bit of revenge or will she come back to her senses and save the day?  Either way, I'd say that Ericole is over for the foreseeable future. 
Victor was also in fine form as he fired Kate for allegedly selling company secrets to Stefano…
Shortly after you started sporting those new baubles from Stefano, you gave him a little present in return. Sort of a tat for tit.

Victor
I love how Victor can be such a gentleman with Maggie and still keep his edge with the rest of the world. I hope that never changes.
But the biggest, best, most wonderful twist of the week was all Sami.
I started to suspect something was up when she positively gushed about her love for Abigail. Then she forced the girl to plan her wedding to EJ and made her the maid of honor. Then she pointed out to EJ how very young Abby is and offered the girl a Virgin Mary and I couldn't help but laugh.
Sami has the photo of EJ and Abby. Who sent it to her? Was it Stefano? Did Nick set it up to be sent after he died? To be honest I really don't care because for once Sami's out for blood but she's being smart about it.
And as if it could get any better, Kate is in on the scheme! Just last week I was lamenting how boring it was to have these two at one another's throats once again only to find out they're in this plot for revenge together.
I have no idea how it's all going to play out. Will there be public humiliation? Will all of Abigail's family find out the truth? Will Sami marry EJ or leave him at the altar? All I do know is that this will be epic and I can't wait for next week to find out what happens next.
But tell us TV Fanatics, who had the best line of the week...
C. Orlando is a TV Fanatic Staff Writer. Follow her on Twitter.