Attention, Major Crimes Fanatics:
Interested in winning Season 2 of this TNT drama on DVD? Good. You've come to the right place.
We're giving away three (3) copies of the DVD to three (3) lucky readers, one apiece.
Simply follow any or all of the following steps to be eligible for this giveaway, which runs through Wednesday, June 25. Contest open to U.S. residents only.
Good luck!
Here's a look, meanwhile, at some of the major TV titles recently released on DVD and Blu-ray...
Major Crimes Season 2: The TNT crime drama could be easily labeled 'that spinoff of The Closer' or 'just another procedural' but at its heart the Mary McDonnell starrer is a character drama. Sure, there's a case and it's often good vs bad but the cast relationships are like a family and while teen Rusty's sloooooow coming out could happen faster for myself, it's still much better than your cookie cutter cop show. Some extras here but check out this release for the episodes themselves.
Teen Wolf Season 3/Part 2: Probably the darkest group of episodes yet in the MTV drama as we see a much different side to Stiles and Dylan O'Brien chews up the scenery. There are also some major deaths, new romances and more in the second half of season 3. The only extra is a 'Following the Pack: The Fans Of Teen Wolf" which has over 8 minutes of fan footage along with cast interviews, party coverage and more. Good stuff all around. 
Pretty Little Liars Season 4: Wait. What? Alison is alive? But is she A? And who gets shot in the finale? If you're caught up on the show, you know the answers but if you aren't, then dive into the twisted fourth season of the deliciously addictive ABC Family series as the fourth season is now on DVD. Bonuses include  'Unhooding Redcoat: Alison Is Alive!' 'The Lair' featurette and "Pretty Little Scenes." That and all 24 episodes and you'll be screaming for more in no time! 
House Of Cards Season 2: If you're still not quite on the Netflix bandwagon, don't let that stop you from diving into the Kevin Spacey-Robin Wright series as the second season takes things to darker and richer levels of drama and intrigue. This show knows how to shock and tease and entice you and it also knows how to bring great extras in its DVD/Blu-ray package. Five new featurettes are included which gives you insight into creating the series as well as a great feature called 'Direct Address' where we go into the way Spacey's Francis talks to the camera. Bravo, House of Cards!
Klondike: We don't normally go to Discovery for scripted drama but that changed with Klondike, the series focusing on the 1890s gold rush. Starring Richard Madden, Abbie Cornish, Sam Shepard, Tim Roth and Augustus Prew, the new release on DVD and Blu-ray comes on two discs including exclusive cast interviews, behind the scenes look and 'Discovering Klondike' which looks at the history of Yukon's gold rush.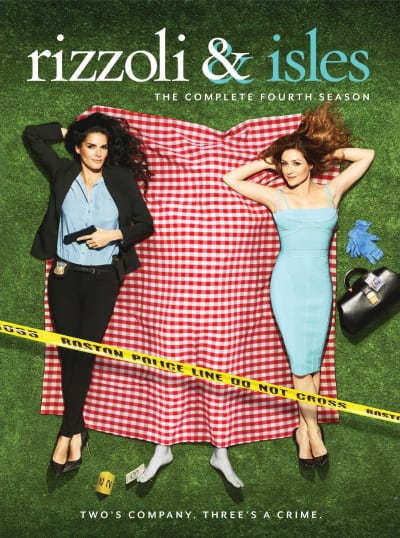 Rizzoli & Isles Season 4: The fifth season just kicked off this week on TNT but if you're still needing to get caught up on last season, check out the new DVD and Blu-Ray release. Like its sister series, Major Crimes, you'll think you come to R&I for the cases but it's really for the fun banter between Angie Harmon's Jane Rizzoli and Sasha Alexander's Maura Isles. In the fourth season, Maura deals with the trial of her mobster/biological father while Jane must confront her past when someone from her profressional (and maybe personal) past shows up to work at the station. Good stuff.
Ray Donovan Season 1: The compelling Showtime drama starring Liev Schreiber and Jon Voight grabbed viewers by the...well, you know what. Donovan may be good at his work as a fixer of sorts for celebs, athletes and moguls but his family life is a mess, none the least being his father (Voight), a gangster who never was there for his family but now may need them. No extras to speak of but if you're looking to catch up before the second season starts in July, get the DVD or Blu-ray today.
Classic TV: Rawhide/8th and final season & A Perry Mason movie collection: Bring on the classic TV with the eighth and final season of the Clint Eastwood western, Rawhide, as well as the return of the best TV lawyer in the business, Perry Mason, in three TV movies. Are these classic TV series a bit dated for you? I bet they're not for your Dad and what father is going to say no to a belated Father's Day gift?
Jim Halterman is the West Coast Editor of TV Fanatic and the owner of JimHalterman.com. Follow him on Twitter.