Hey, Trubie Fanatics! Ready to gather around another Round Table?
On True Blood Season 7 Episode 6, we learned Sarah holds a Hep-V cure, saw Tara clawing the dirt in her old backyard and watched Bill sit for hours in a waiting room. 
Discuss all of that and more with TV Fanatics Leigh Raines, Carissa Pavlica and Matt Richenthal as they share their opinions on everything "Karma" related.
--------------------------------------------------------------------
What the heck is Tara trying to tell her family?
Leigh: I'm not even sure what language she's babbling in. I have to assume it has something to do with the cure, but it could be an entirely different storyline. She probably left something to her family and it's hidden there. Here's hoping Lafa gets a hold of it.
Carissa: I thought it would be cure-related, but how would she have had that information? I can't think of one thing Tara left unresolved on earth that would make her spirit claw at the dirt like a dog for Lettie Mae.
Matt: Bring me back! Bring me back! I'm at least less annoying than my mom!!!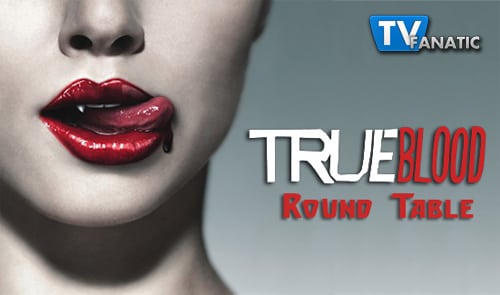 Bill's waiting room experience was surreal. Worth anything else?
Leigh: In our greedy society, there's no way more people wouldn't be trying to capitalize on the vampire lawyer business. Bill staking that extortionist bitch was so Eric of him. Sometimes the motto should just be: What Would Eric Northman Do? #WWEND
Carissa: I thought it was hilarious. The waiting room music and the company, considering they're all thought to be these brutal vampires, was so poetic. The mailman slinking away from Bill and his rapidly progressing symptoms was also fun!
Matt: It was pretty funny. But it was also also emblematic with my issues overall concerning True Blood Season 7. There really isn't a whole lot happen, considering this is the final season. There are far too many wasted scenes on a weekly basis (hello, boring flashbacks!).
What was up with Violet's first reaction to please Jason for cheating?
Leigh: I'd say almost every single woman has her insecurities. Maybe she wanted to try and make it work and please him and keep him first. She had to have a plan otherwise she would've just confronted them head on. Not my choice, but interesting.
Carissa: Funny, I don't think it was insecurity that made her do that but hubris. The woman thought she was so good that she could wipe the thought of Jessica out of Jason's mind. Shows what she knows about emotions.
Matt: Why must we question why a woman wants to please her man? Can't we just enjoy it?!?
Sarah is the cure. True Redemption or a better ending coming?
Leigh: I think there might be another way to save the vamps, but I do like this storyline. I totally didn't see it coming. Something will happen that involves the fairies since Niall was seen in the Comic Con trailer.
Carissa: At the very least, there was a purpose to bringing her back. That said, nothing can redeem her. She's still vamp-hating scum.
Matt: Agreed all around with Carissa. As much as I love Anna Camp, bringing Newlin back felt like a cheap final season stunt until now. I'm glad she has a purpose... and I still say Eric manages to kill her.
Thoughts on the cure and who should still bite it before the finale. Why?
Leigh: Hmmm. LETTIE MAE. Also, I don't want Eric or Bill to die. I want Sookie to choose of her own accord, not because of who is left.
Carissa: That's a brilliant point, Leigh. If either Eric or Bill dies, that would force Sookie's hand (although she could still chose to be alone). Is it wrong to want a Six Feet Under type ending where they all survive and we get to see where they are when they do, eventually, die?
Matt: Thanks for the Six Feet Under spoiler, Carissa! Sheesh! I don't think any more main characters die. I do think Sam leaves town and makes a life elsewhere with Nicole. I also hope Lettie Mae suffers the same fate as the member of the Guilty Remnant at the outset of last Sunday's The Leftovers.
Carissa Pavlica is the managing editor and a staff writer and critic for TV Fanatic. She's a member of the Critic's Choice Association, enjoys mentoring writers, conversing with cats, and passionately discussing the nuances of television and film with anyone who will listen. Follow her on Twitter and email her here at TV Fanatic.