Gracepoint Interview: David Tennant on Reimagining Broadchurch, Using An American Accent & More

Henry A. Otero at . Updated at .
Gracepoint star David Tennant recently participated in a Q&A with members of the press to discuss his new 10-part mystery series.
As excerpted below, the star touched on the differences between Gracepoint and the original UK version, Broadchurch, perfecting an American accent, working with Anna Gunn and more.
For audiences not familiar with the drama series, Tennant describes it as "a very strong whodunit. There's the procedural element of cops trying to solve a case."
The actor elaborated by saying "I think what gives it an extra texture and really makes it something rather special is the way that the characters are drawn so beautifully. There's so much texture going on, that we get to understand the lives of all the different characters that get drawn into this and the impact of the event; the death of Danny Solano, which starts the whole ball running, which is the inciting incident in the show. It's not just another TV cop show death.
"We really understand the impact of that, and we really understand what that would mean to a small community such as Gracepoint."
So why did Fox decide on a new take on the story? It can't be solely about "Americanizing" a successful British drama.
"Broadchurch was obviously a bit of the sensation back here in the UK, and I think that's what brought it to the attention of Fox. It got a very loyal and very enthusiastic following on BBC America. There's a huge populist audience who haven't seen it yet, and that I think is what we're principally aiming at."
Yes, Tennant will be sporting an American accent on Gracepoint. Here's what he had to say about perfecting it.
"I think just about in every corner of the globe, we're brought up watching American movies, so it's something that we all have some kind of ear for, I guess. Obviously, it's something that you take seriously, and you work with dialect coaches and experts to help you, and then you just practice until it's kind of in your bones, really, so that it's not something you're thinking about when you're on set every day. You do your homework and then you wind it up and let it go, I suppose.
"I think it's part of trying to find what makes a character and it's probably one of the things that, because I've done a character very similar to this in the British show that preceded Gracepoint, I guess this is, the accent, is one of the things that helps define what's different about this incarnation of this particular character I guess."
Naturally, Tennant was asked about working with Anna Gunn in the role Olivia Colman originated in Broadchurch.
"That relationship, as it was in Broadchurch, is very much one of the central structures to Gracepoint. A lot of that is defined by the relationship you can build up as actors. I was very nervous, especially having done this show before, and that relationship and worked very well with the wonderful Olivia Colman, who plays Miller in Broadchurch. I was nervous, of course, turning up on day one to meet Anna, because we had so much to do together, that that relationship was so important to get right.
"Luckily, she just turned out to be a proper actress, someone who was committed to getting it right, who was open, who was easy to work with, who you could also have a laugh with, who you could throw anything at her and she would respond.  That's just the kind of relationship, the kind of professional relationship that you always hope for." 
"It was a huge relief and then a great joy to work with her throughout the ten episodes. Everyone who knows her work knows how talented she is. I was very chuffed to get to play alongside and also get to know her offset as well. She's a lovely lady and someone that I feel greatly enriched to know."
Since his character's in both Gracepoint and Broadchurch are so similar, how did Tennant approach playing each of them?
"I just tried to play each scene as it came. I didn't want to be self-consciously quirky about it. I didn't want to re-create something for the sake of or reinvent something for the sake of reinventing it. I didn't think he's got to be different, I'll give him a limp or a funny hat or a lisp. I just wanted to tell the story. I just approached each scene as openly as I could, and tried to tell that story as honestly and as well as I could. I think that's all you can ever really do."
Still, he assures us that his two characters are quite different.
"I think Hardy and Carver are very different, actually. They certainly feel very different in my bones. Obviously, they look quite similar. They are following the trail of an investigation which has many similarities, but they feel different to me."
Having lived with this character for a while now, Tennant was asked what makes Carver/Hardy compelling.
"He's a character that's so intriguingly drawn, I think. He's got lots of secrets. That's always intriguing from an audience's point of view and from an acting point of view. Certainly at the start of Gracepoint, we've got an awful lot to learn about who this man is, and why he is motivated in a way that he is motivated. In fact, I think it's fair to say that throughout Gracepoint we don't entirely learn the answers to all Carver's particular questions. Maybe we will if we ever get a Season 2."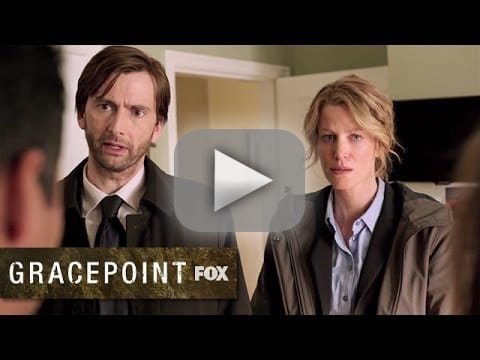 Speaking of Season 2, does Tennant believe that's a possibility?
"Yes, there's always an eye for that, isn't there, with almost everything on television. We have to wait and see how the audience responds to it. Broadchurch is going to a second season, so there's no reason why Gracepoint shouldn't. There's a template there; although, a second season of Gracepoint might go off in a very different way. Who knows?" 
"I just want America to take to it in a way that the UK did, because it was an extraordinary thing to be a part of. Even as objective as I can be, I think it's a fantastic story that people will be thrilled by."
Gracepoint Season 1 premieres Thursday, October 2 at 9/8c on Fox.