Susan Banks fled from the Dimera mansion, Abby and Ben did the deed and John remembered everything this week in Salem.
TV Fanatic Christine Orlando is jointed by JaysDelina and sevenna92  from MyHourglass a Days of Our Lives fan forum to discuss Ben and Abby's first love scene, what John will do next and who had the best reconciliation after this week's Days of Our Lives.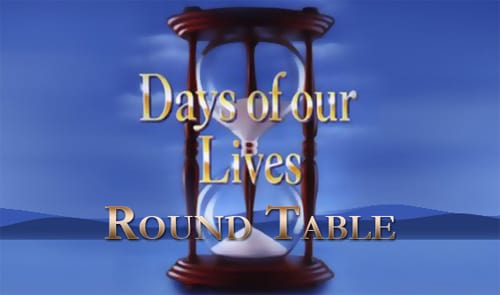 What did you think of Ben and Abby's first love scene?
JaysDelina:  Ben and Abby's first love scene wasn't too bad. Although I would have preferred that it NOT be anywhere she'd slept with EJ. I think that's my only complaint about it.
sevenna92:  Ben and Abby's love scene was terrible. Why did they have their encounter in a hotel room?
Christine:  I'm not a big fan of Abby and Ben. It feels more like they're checking off boxes to make their relationship feel real. There are some couples that I look forward to them getting to this point but I just don't feel that with Ben and Abby.
What will John do now that he's remembered what happened?
JaysDelina:  I think he's going to feel out the situation with Teresa and Brady before he does anything.If I had to guess though,Teresa's in big trouble.
sevenna92:  I think John might make a deal with Theresa to bring down Kristen.
Christine:  I really don't know. Him saying the truth outright and having Brady believe him just seems to easy but I can't imagine what would stop him from doing so.
How do you think Ciara will react when Hope tells her she's divorcing Bo?
JaysDelina:  Ciara's definitely not going to react well.She's been a brat for a while now,and I think once Ciara's let in on the situation it's only going to get worse.
sevenna92:  I don't think Ciara will be happy. 
Christine:  I've grown to love Ciara. She is Salem's up and coming bad girl/wild child. I think she's going to give Hope hell over this…and wait until she finds out that Mommy is dating Aidan. Poor Chase may have to run for cover. Of course Hope might be able to buy Ciara's good will with some expensive jewelry if she gets too out of control.
Eve's tirade against Jack Devereaux. On the mark or over the top?
JaysDelina:  I hated Eve's tirade against Jack.It was way over the top and completely unnecessary.
sevenna92:  Eve is becoming increasingly delusional and I think she was out of line. She deserved that slap. 
Christine:  I agree sevenna92. Even I wanted to slap Eve and I was so happy when she returned to Salem. She and Jack were sort of friends in an odd way. To hear her talk about him like that was horrible.
Best reconciliation of the week? (Eric and Sami, Eric and Brady, Marlena and John, EJ and Nicole, etc.)
JaysDelina:  I would have to say EJ and Nicole. With James Scott's imminent departure, I really think it foreshadowed what's going to happen to him.
sevenna92:  I think I have to go with EJ and Nicole.
Christine:   Wow! We all agree then. EJ and NIcole were the biggest surprise. As Nicole said, they've been through the wars together and it was great to see them both acknowledge that.
What scene disappointed you the most?
JaysDelina:  Susan's departure disappointed me most. I commend Days for not changing Susan's personality, but would have loved to see her interact with the people of Salem,and definitely she should have had an exit scene instead of "here today, gone tomorrow".
sevenna92:  Anything with Sami and EJ. They bore me.
Christine:  I agree JaysDelina. Just when I was beginning to enjoy Susan's brand of craziness and her comical interaction with Sami and EJ, she was gone.
What was your favorite scene or story of the week?
JaysDelina:  The "tickle monster" game scene was my favorite,because there were two emotions being played out .EJ having fun and letting loose with his kids, yet you knew EJ's in trouble because of the music playing in the background.
sevenna92:  I love how Theresa went after Daniel. I was kind of scared of her and I enjoyed it at the same time. 
Christine:  Victor supporting Hope and going to bat for her with Caroline. It showed just how much he cares about both women and how they are truly family to him.
C. Orlando is a TV Fanatic Staff Writer. Follow her on Twitter.