NCIS New Orleans Round Table: Where is LaSalle's Brother?

Kathleen Wiedel at . Updated at .
Two online romances, a fake girlfriend, a close friend and a missing brother: each played a part in NCIS: New Orleans Season 1 Episode 8.
Below, TV Fanatic Round Table panelists David Taylor, Douglas Wolfe and Kathleen Wiedel discuss the various relationships that came into play in "Love Hurts," along with many other storylnes and developments.
Ready to join in the debate?
Were you surprised when Sebastian introduced his girlfriend to the team at the end of the episode?
David: Definitely. While I didn't think he was "catfished," I wondered what she might look like or how she might act. It's also cute that he seems kind of surprised himself.
Pride: Terrified?
Sebastian: Oh, big time.
Doug: I was totally surprised. It was good to see, though.
Kathleen: I think I mentioned in my NCIS: New Orleans Season 1 Episode 9 review that the situation reminded me of what happened with Detective Ryan and his girlfriend. It took introducing her to the rest of them to prove she was real! This situation is slightly different in that Sebastian hadn't really met her before in person, himself, so I think it's possible part of him was worried that she might not have been everything she seemed when he chatted with her online.
What do you think is going on with LaSalle's MIA brother?
David: I think I may have missed some dialog because I'm wondering what prompted LaSalle to even look him up. Given the quote in the review, perhaps we're meant to think that he too might be sick.
Doug: He didn't pick up his last check from the restaurant, so my guess is that he's on the run from someone. Maybe someone from his past. Or as David suggests, maybe he's sick and he's now off of his meds.
Kathleen: I think Doug may have hit it on the head. Maybe LaSalle's brother has a gambling problem and had to take of when he thought the people he owed were closing in on him. The woman from the diner certainly seemed charmed enough by him to want him back even though he took off without warning or notice.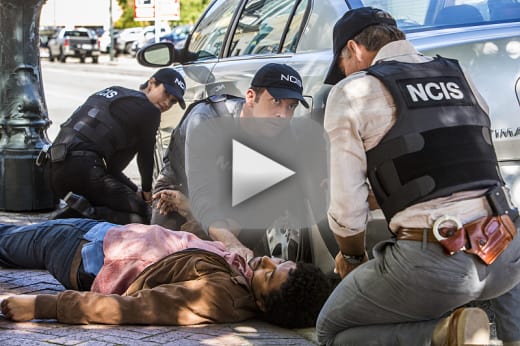 Relationships are a key theme of this episode. Of the various relationships featured, which did you find the most interesting and why?
David: I was intrigued to find out LaSalle had a brother floating around somewhere. He's such a strong, get-it-done character that it was easy to forget that he, too, has a family that he doesn't talk about for one reason or another.
Doug: I liked the strong friendship between LaSalle and his buddy Phil Martino. Seems LaSalle just kind of forms strong bonds with people he respects. Certainly he seems to be the kind of guy you could sit down and share a couple of beers with.
Kathleen: I'm with Doug - I really enjoyed seeing LaSalle have a friendship outside the immediate team. It seems that way too often the main characters of a show like this are only seen being friends with each other, and not any other "outsiders." I bet most of us like to hang out with more people than just our co-workers, after all!
Are there any scenes, quotes or characters that stood out for you in this episode?
David: The bantering between Plame and Lund was funny and the quote I used above was my favorite of the episode.
Doug: I liked the action scenes in this episode. The series, especially in its infancy, needs more of those. The way the assassin and Brody got into it was quite well done: well choreographed and executed.
Kathleen: I really liked Plame and Lund's back-and-forth bickering, but the fight scene Doug mentioned was also impressive.
Was there anything that just didn't quite work for you? Why?
David: Using government resources to locate your brother? Shame on you LaSalle. Also, I agree with the review: there's such a thing as too many plot twists. I was getting ready to take a Dramamine.
Doug: I'm with David. As soon as LaSalle started in with the computer, I thought: "Uh-oh - it says right there on the screen that the database is for official enquiries only. What's he doing using it to find his brother?" In real life the man could lose his job over something like that.
Kathleen: Since the other two have already mentioned LaSalle's abuse of power, I'll go with the eye-rolling moment when LaSalle's friend Martini was of course still in the building with the bomb, and they escape moments before the place blows up. Talk about cliché much? Also, the security detail at the task force lunch meeting should be fired: they knew full well that the Admiral's life was potentially in danger, but they didn't find the suspicious bag by the gas line? It took the NCIS team something like three seconds to find it after they came in.