NCIS New Orleans Round Table: Who Stole the Potato Salad?

Kathleen Wiedel at .
A car chase ended in the death of a Navy officer, leading to revelations of some seriously poor corporate decision-making on NCIS: New Orleans Season 1 Episode 7.
Meanwhile, Pride struggled to handle the ongoing crumbling of his marriage, while LaSalle faced his most serious case yet: the mystery of who stole his potato salad!
Join TV Fanatic Round Table panel members Douglas Wolfe, David Taylor and Kathleen Wiedel as they discuss their thoughts on these and other events that occurred in "Watch Over Me." And be sure to add your own insights in the comments below!
How would you describe this episode in a few words or a sentence?
Doug: Red cars and displaced soulmates.
David: Pride goeth... for a ride
Kathleen: How to Fail at Business Without Really Trying
What was your favorite scene or quote? Why?
Doug: I'm getting to really like those scenes where the team pulls one over on the suspect - in this case, telling the suspect that the hit man in the order room was "singing like a canary".
David: The banter between Lund and the hacker (or whatever euphemism he used) [Patton Plame, played by Darryl Mitchell] was pretty funny, but I'm with Doug: the fake-out during interrogation was well played.
Kathleen: I loved the moment when LaSalle got all worked up about the intelligence specialists stealing his potato salad, only for Brody to discover Patton eating it in plain sight!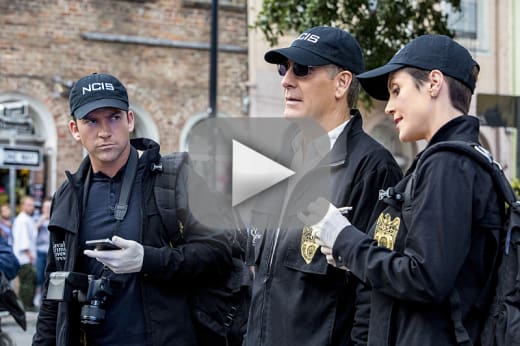 What, if anything, didn't work for you and why?
Doug: I liked the episode overall, and couldn't find much wrong with it. Even Lund was less grating than usual.
David: How'd the safe house get compromised?  Was Pride followed, and shouldn't he have noticed he was being followed?  And then taking her back to the office was supposed to be safer... but if baddie found the safe house, how would he not find NCIS?
Kathleen: I was wondering about the safe house myself. They never did explain how the guy found out about it. There were a few plot holes like that in this episode, actually, and it was a little bit annoying, even though I enjoyed it overall.
Do you think that LaSalle's theory about Pride not wanting to fix the car to keep his wife close might actually hold water?
Doug: Absolutely. It's exactly what I thought when Pride continually refused the services of a mechanic. So it was surprising to find out that he was actually going to sell the car, and that Linda was going to move in with her sister. Looks like that chapter of his life might be over.
David: Oh, HEY-ELL to the yes. Pride's temporary evasiveness was rather telling, too.  It's just like the piano that his daughter was keeping while away at school.  Frankly, the car repair had me flashing over to Gibbs's boat building, and I thought, "No, they wouldn't go there... would they?"  Glad it appears to be short-lived since he plans to sell the car.
Kathleen: Well, he's said that he plans to sell the car. Hasn't sold it yet, has he? I'm with Doug and David and LaSalle on this until Pride actually goes through with the deal!
We're seven episodes in. What recurring characters would you like to see more of... or never again?
Doug: I've said it before, and don't mind repeating it: lose Lund. Bring back Wendell Hobbs, the jazz-playing keyboardist.
David: I'm getting used to Lund, but I'd still be happier with the assistant from the original crossover. I'd also like to see more of the hacker [Patton Plame] -- I think it would make for some high-tech plots/cases.
Kathleen: Lund doesn't bug me too much like he does Doug, but I would like to see more of Patton Plame and also Eyal Podell's Dr. Wilkins character we saw earlier in NCIS: New Orleans Season 1 Episode 6.