Marley Rose may have left the halls of McKinley High School, but that hasn't stopped Melissa Benoist from continuing to pursue new heights.
Benoist has been tapped to play Supergirl herself, Kara Zor-el, in the upcoming CBS series about Clark Kent's cousin.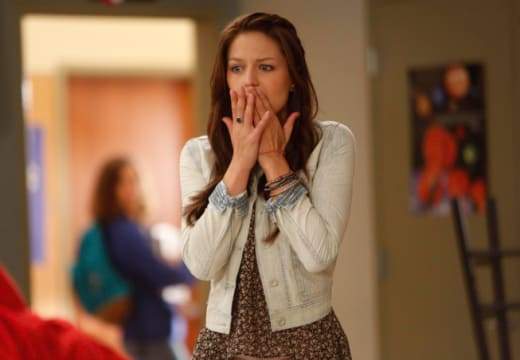 Benoist starred in Glee Season 4 and Glee Season 5 before taking a turn in the indie flick Whiplash, and it's her relatively unknown status which makes her the perfect fit for Supergirl, a character CBS execs described as "a very strong, independent young woman."
"She's coming into her own," Nina Tassler told critics at this month's TCA press tour.
"She's dealing with family issues. She's dealing with work issues. It's a female empowerment story. If you look at the strong female characters we have on the air, it really is resonant of that … We're big feminists. It's her intellect, it's her skill, it's her smarts. It's all of those elements. It's not just her strength, which she does have."
Supergirl will be the first superhero show to hit CBS since the short run of The Flash in 1990. It will, like so many other shows currently on the air, be a crime procedural featuring "serialized story elements woven into a case of the week."
"She's a crime solver, so she's going to have to solve a crime. She's going to get a bad guy."
Hey, if all else fails, they can always have Supergirl head to karaoke night and belt out a few numbers, right? Melissa Benoist would probably be down for that.
What do you think of Benoist as Kara Zor-El? Great casting or terrible choice? Sound off in the comments below!
Miranda Wicker is a Staff Writer for TV Fanatic. Follow her on Twitter.