Last week, we were briefly introduced to Deacon, the leader of the scav group known as the West 7.
Apparently, these marauders have unfinished business with Cole and Ramse. This week on 12 Monkeys Season 1 Episode 4 they finally catch up with them threatening the mission by attacking the temporal facility.
Syfy has released several photos from Friday's installment. Flip through our slideshow for a look at what's coming up.
Where do the "West 7" get their unique name?
The West 7 zone was an additional quarantine area that opened in Morningside Heights, NY after the other six Western Quarantine Zones became overcrowded, suffered infection scares and food riots. Zone 7 opened in 2017 after weeks of negotiations between government health reps and groups of immune citizens.
Deacon, the group's leader, started the gang during the overthrow of the Western 7 Quarantine Area. They're known to be ruthless and can be identified by the roman numeral VII tattooed on their arm.
Have you shared your theories with us yet? Join our 12 Monkeys Round Table to read our thoughts and share your own explanations with us!
In this sneak peek from Friday's installment, Jones sends Cole back in time rather than die facing off against the West 7.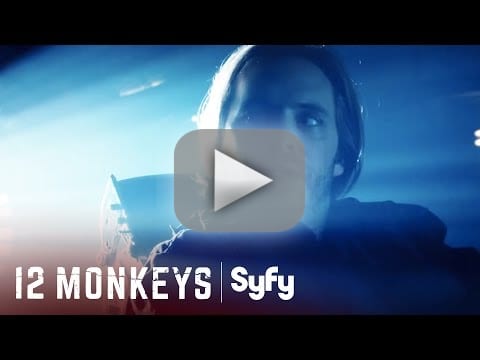 12 Monkeys Season 1 Episode 4 is titled "Atari" and airs on Friday, February 6 at 9/8c.