Doug and Julie hopped off of their cruise ship long enough to visit with Hope, Nicole cozied up to Xander and Theresa and Brady brought home their son on last week's Days of our Lives.
TV Fanatics Nick McHatton and Christine Orlando is joined by Unavitasegreta and Fluffysmom from MyHourglass a Days of Our Lives fan forum to debate whether Doug and Julie should stick around Salem, Nicole's new plan, whether Theresa should move into the Kiriakis mansion on Days of Our Lives.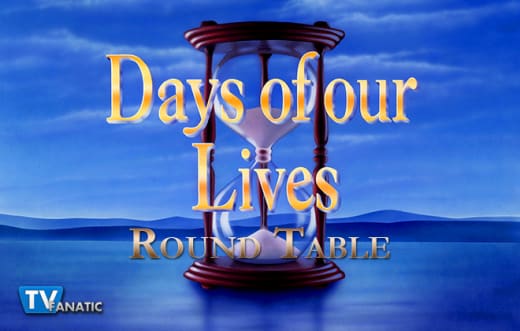 Would you like to see Doug and Julie stick around Salem?
Nick: Not really, there's nothing in Salem that needs to keep them there on a permanent basis. Sure, an argument could be made for Hope, but even the Hope argument is stretching it a little thin. 
Unavitasegreta: Yes! They are the heart and soul of this show, especially Susan Hayes. I definitely think they should be on more often.
Fluffysmom:  Yes, I'd like to see them as supporting family for the Hortons. Their history and relationships could be used in a variety of ways as supporting characters. 
Christine:  Absolutely. I love it when they use the veterans actors and Doug and Julie can definitely add some fun and some history to Salem. 
Chad told Abigail about his feelings for her. Would you like to see these two get back together?
Nick: Chad is the more entertaining option when compared to Ben, so I would absolutely love to see them get together if it means Ben and Abigail are never getting back together.
Unavitasegreta: I am so bored with Abigail and Ben that I enjoy her in scenes with anyone else. She has a thing for the bad boys. I'd love to see her back with Chad.
Fluffysmom: Yes, I'd like to see them together. Abigail likes DiMera bad boys so she will eventually get bored with Ben.
Christine:  Despite the fact that Abigail annoys the heck out of me, I certainly prefer her with Chad over Ben. Just how many times will she barge into Chad's home to tell him how much she doesn't care about him?
On a scale of 1(stupid) to 10(smart), rank Nicole's plan to get close to Xander in order to take down Serena?
Nick: I'll give a 7, it's certainly not one of Nicole's worse plans.
Unavitasegreta: Normally I would say 1 because we know this will blow up in her face and Nicole will end up as the bad guy. But I am liking that she's not with Daniel, so I'll pump the number up to a 10 just because of that factor.
Fluffysmom:  I have to rank her plan a 2. Her plan will either a) blow up in her face, b) go nowhere, C) lead Daniel and Eric to be mad at her or the most likely choice of d) all of the above. 
Christine:  Nicole is a smart character who gets the dumbest storylines. Her plan is about a 3 but I'll happily boost it up to a 6 if it keeps her away from Daniel. I am so done with them as a couple. 
Should Theresa and the baby move in to the Kiriakis mansion?
Nick: For the sake of the little guy, absolutely, it'll be much better for him to be surrounded by lots of family and love versus being hauled back and forth between the mansion and her apartment.
Unavitasegreta: I'm torn. It's definitely the safest place and I think the baby needs to be with both of his parents. However, Victor will be so nasty and hateful to Theresa that it won't be a good environment for a child.
Fluffysmom: I think that would be the safest plan for now since Victor is already worried about Stefano.
Christine: Yes, she should. The baby needs to be kept safe and he needs both his parents, especially now. The mansion is huge so if everyone acted like adults they could give one another plenty of space and get along but the odds of that happening are nil. 
Will Eve and Cole's plan keep JJ and Paige apart?
Nick: Has any plan worked to keep this super-awesome-not-boring-in-the-slightest couple apart? No. Sure, I hope their relationship will get hit by Salem's biggest bus, but clearly I need to dream smaller for now.
Unavitasegreta: No. These juvenile games are ridiculous. Kassie DePaiva's talent is wasted on Eve's creepy obsession with ruining JJ.
Fluffysmom: I doubt it. I don't think Paige will believe JJ is dealing drugs. The only question is whether the drugs or the anonymous tip can be linked to Cole.
Christine:  I'm really hoping that the drugs somehow end up on Paige. That's the only thing I can think of that will make Eve confess to everything and brings this silly story to a head. 
Was there anything that disappointed you this week in Salem?
Nick: Daniel being completely blown away and dumbfounded that Nicole would still be mad at him after him being such an ass to her at every junction. Yes, Dr. Dan the Superman, even you can break hearts.
Unavitasegreta: I was disappointed that Nicole didn't lay into Daniel when he was acting so clueless about why she'd be upset. I know she's putting on a show for Xander, but I wish she'd call out Daniel for the jerk he's been lately.
Fluffysmom: Marlena and John's reunion. Neither of them showed any emotion. As a longtime John and Marlena fan I thought it was very sad.
Christine:  I'm with Nick and Unavitasegreta. Daniel's been yelling at Nicole for weeks and the one time she gets mad about it and pushes him away he acts like she's the crazy one. The only thing crazy about it would be if she goes back to him…which she probably will. Sigh. 
What was your favorite scene or story line of the week?
Nick: I adored when Aiden was not having Will's crap. Salem continually tormenting Will is one of my favorite things right now. He deserves every ounce of it.
Unavitasegreta: I loved every moment of Theresa with her baby. 
Fluffysmom:  My favorite storyline this week was Teresa and Brady introducing their son to their waiting families. My favorite scene was Brady introducing Victor to his great grandson. I'm glad it was done in private. I liked the mentions of Isabella.
Christine:  Since Nick picked my first choice, I'll go with the confrontation between Justin, Adrienne, and Lucas. It was snarky and intelligent and fun. This is how adults fight and we don't see nearly enough of it. 
If you missed anything from last week's show, check out our Days of Our Lives recap and review.
C. Orlando is a TV Fanatic Staff Writer. Follow her on Twitter.