Forever Preview: Ioan Gruffudd Teases Henry-Adam Finale Face-Off
Jim Halterman at .
Could this be Henry Morgan's final death?
With an episode titled "The Last Death of Henry Morgan," it would seem that Forever Season 1 Episode 22 could find out hero - who just happens to be unable to die - finally meeting his maker.
We've been waiting all season for a final showdown between Henry and Adam - and, based on what series star Ioan Gruffudd told me last week, this could finally bring the end of Henry Morgan.
However, will Henry finally tell detective Jo Martinez about his secret, as well as his feelings for her? What will we learn in the flashbacks? And how it was for the actor to work with Sleepy Hollow star John Noble, who appears in the finale?
Let's dive in and find out how Forever Season 1 will wrap up...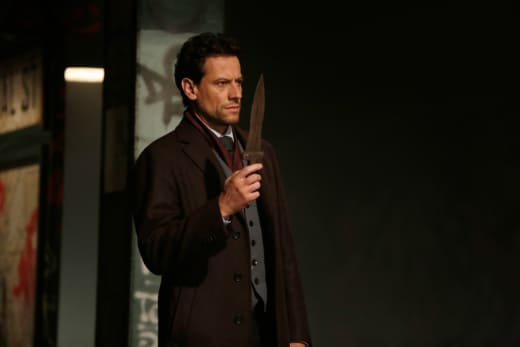 TV Fanatic:  How would you describe the flashbacks in the episode because I know we learn some more about Abigail?
Ioan Gruffudd: We've been alluding to the fact that Henry's immortality is a painful existence and the last episode we certainly showed that Abigail's disappearance was her way of dealing with his immortality and trying to protect to his immortality [and] protect his secret. So it was terribly heartbreaking and terribly heartbreaking to shoot it as well because I absolutely loved that relationship. It's just been there, a beautiful, beautiful relationship throughout the season.
TVF:  Watching the show all season, I can't help but wonder how has Henry stayed sane all these years with everything he's gone through?
IG: Yeah, when we meet him at the beginning of this season, I don't think he is dealing with it very well. He's locked away in his work. He's brusque, he's a bit over-confident and arrogant and a bit dismissive of some of his peers and colleagues and when we met him in the pilot, he's a bit of a womanizer but just to the point of enjoying himself rather than actually falling in love with anybody. He's very strict not to do that.
TVF:  How would you describe what we see with Jo in this episode because it seems like Jo has been kind of getting closer and closer. Do you think Henry's going to have to finally get to a place where he has to fill her in on everything?
IG: I think that's what we've done in this finale. We've set it up two episodes ago when Jo burst into the antique store and didn't go to Paris. I mean there was a moment there where we all thought that Henry and Jo were going to proclaim their feelings for one another and in the finale, we flip it on its head because Henry is caught between protecting the secret and protecting Jo at the same time and it becomes a real turn off for Jo. We turn that whole relationship on its head because inevitably we'll be skirting very close to the secret being revealed.
TVF: I was really happy to see John Noble in this episode. How was it having him in the show for this episode in kind of a key role too?
IG: It was a terrific catch to have him come and play that part because he's such a wonderful actor and such a presence as well on screen. We really give credence to that role that he had in the finale. This is somebody who's mixed art collector. He's kind of like that Montgomery Burns character on The Simpsons. He's eccentric and has a lot of money and lives sort of closed off from society as it were but has this great love for Roman architecture and Roman sort of artifacts, and of course, he's convinced himself that there is some truth to the psyche of immortality.
TVF:  We've all been waiting for this final confrontation with Adam. How was it for you as an actor to finally get to this point where you guys really get to face off?
IG: Yes, we do. We've been so back and forth, and to and froing, and finally, as you said, we get to have our standoff and I think Henry gets the upper hand and more through anger and emotion than having better judgment. He's very clever in a way…it was a lot of fun to play with Burn [Gorman, who plays Adam] because he's such a terrific actor and has such a terrific screen presence. I think we had a lot of fun together shooting this episode.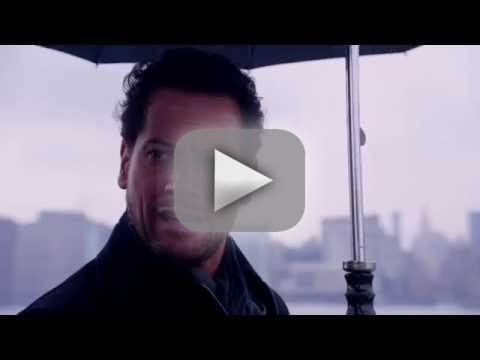 TVF:  Do you have a favorite death of Henry's because you died several times this season. Do you have a favorite one?
IG: I kind of loved the brutality and the generosity of Adam early on in the season cutting Henry's throat so to protect the secret from Jo. That was pretty cool. I loved the scene we did in the past where the priest in the cell with Henry, believes Henry and helped him kill himself and go to see the truth about Henry and his immortality by hanging him in the cell.
TVF:  We're waiting to hear about a second season but would you say that the season does get wrapped up or do we get a little bit of a cliffhanger?
IG: I think with all good television shows, I think we cleverly wrap up the season and the themes and the subjects that we've touched upon during the season. I think that's important for an audience to know that there's a future for the show with new stories and new avenues to explore but we also want to leave them salivating and wanting more.
I think what's wonderful is we leave the show open-ended absolutely but it's not in such a physical dramatic way as many shows do with big fireworks and explosions and gun shots or whatever it is or somebody having damages hanging over their head. We do it in a very simple way that leaves your jaw on the floor.
Forever Season 1 airs Tuesdays at 10/9c on ABC. 
Jim Halterman is the West Coast Editor of TV Fanatic and the owner of JimHalterman.com. Follow him on Twitter.