Abigail had another pregnancy scare, JJ got an unexpected offer that could take him in a whole new direction and Victor and Stefano considered teaming up to take down a mutual enemy last week in Salem.
Our TV Fanatic Christine Orlando is joined by Kpatch and Mikey from MyHourglass a Days of Our Lives Fan Forum to discuss possible baby daddies, Paige's revenge plan, and their favorite moments from last week's Days of Our Lives.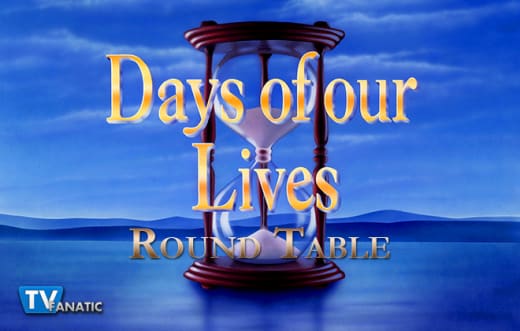 If Abigail is pregnant, who do you hope is the daddy?
Kpatch: Whether the baby is a Weston or a Dimera, I don't think either choice is great. But I do feel like the show is steering viewers toward Abigail and Chad, so it would be better if the baby is Chad's. Personally, I am not invested in either pairing.
Mikey: Chad, 100%. There's way more long-term value in a DiMera/Horton baby than a Weston/Horton one. I don't find Ben nearly interesting enough to have him tied into the fabric of the show long-term by being the father of Abigail's baby. What I really want is for her not to be pregnant, though; the younger characters get saddled with babies so soon on this show! Will, Sonny, and Theresa already are. What's next, JJ decides to prove he's a better person by adopting at age 20?
Christine:  Like Mikey, I feel as though we've had enough unintended pregnancy stories the last few years but I think that's where this is heading. Abigail really needs to re-evaluate her birth control considering she had a pregnancy scare with EJ too! But I'm a big fan of Chad and Abby. I hope they turn out to be an actual love story and a Dimera/Horton baby will certainly add to the drama.
Should JJ go undercover to take down Clyde?
Kpatch: JJ doesn't know yet who the drug kingpin is, but yes, I think this would be a more original story than people setting JJ up to look like a user. And it might lead him to a career with the Salem PD or FBI.
Mikey: Yes! I'd love to see him involved in a storyline with wider ramifications than whether he and Paige stay together. It has the potential to be a big, fun mess if done well. And I think it could help redeem JJ in his own eyes, which would be a huge step for the character.
Christine:  It's a great twist and will get JJ involved in something else besides pining for Paige. I really don't know what to expect from it but that could make this all the more fun. 
Do you feel more chemistry between Daniel and Nicole or Nicole and Eric?
Kpatch: Definitely more chemistry between Nicole and Eric. I feel zero chemistry between Daniel and Nicole. They are just not clicking for me. Maybe it's because we didn't get any buildup. It's like they were in this instant relationship, but they did nothing but fight and break up the whole time.
Mikey: Nicole and Eric, without question. There's a real romantic passion there. There's a real comfortable friendship chemistry between Nicole and Daniel — or there used to be, before he spent months finding reasons to tell her what an untrustworthy piece of trash she was. I don't really understand why she would want to be with him now. 
Chrisitne: Nicole and Daniel have a friend vibe and Daniel's nonsense all but destroyed that. Now he's saying all the right things but I still don't feel it. There has always been chemistry as well as history between Nicole and Eric. I can't believe I'm saying this after how horribly he treated her but I'm suddenly hoping they get another chance. 
Victor and Stefano discussed Clyde. Do you want these two to get together to take him down?
Kpatch: Seems like somebody's got to do something about Clyde, but no one is doing anything to stop him. It would be fabulous to see these two Salem legends team up to get rid of Clyde. But first, I want it revealed that Clyde had a hand in EJ's murder.
Mikey: I love the idea of them working together. They can barely be civil to one another, but they know they need to collaborate on this. I'd love it even more if they finally sussed out that Clyde was behind EJ's death. Bonus points if Kate finally comes to her senses and helps them, too. I don't like seeing her snowed by Clyde.
Christine:  It's a case of the enemy of my enemy is my friend. I love seeing these two veterans putting aside their difference to take down scum like Clyde. Bonus points if they find out Clyde was behind EJ's murder and Victor steps aside and let's Stefano take out Clyde himself. 
What did you think of Paige's revenge plan against her mom?
Kpatch: It was kind of weak, but I get why she wants to hurt her mother and get back at her. Paige is a novice when it comes to plotting and revenge, so I will give her an A for effort.
Mikey: L-A-M-E. I get that she's genuinely been hurt and is lashing out, but her plan was both juvenile and boring. And I really didn't like that she essentially stole from Eve — yet not too long ago, she refused to accept Eve's tuition check. Wouldn't it have hurt Eve more if Paige accepted the tuition money but not Eve herself?
Christine: Completely lame. Did she not care at all that the ring was an heirloom from her own grandfather? I know Paige is hurting but plotting with some sleaze to steal from her own mother is beneath her. 
Was there anything that disappointed you this week in Salem?
Kpatch: Yes! Teresa and her inane plot against the nanny. The nanny isn't her problem. Her own personality is her problem. For a smart girl, she's clueless. I am also disappointed that Serena isn't gone yet.
Mikey: I can't even claim to be disappointed, because he's been doing it for so long that I expect it, but Will's behavior is absolutely ridiculous. He's a bad schemer, and he isn't even accomplishing anything. Everyone sees right through his plots all the time! I just want Sonny to run far, far away from him at this point.
Christine: All of the above…so I'll pick another. Eve's reaction when she thought the sleaze ball was going to bed her daughter. She came off so weak. I would have expected her to threaten to do him serious bodily harm and be fierce enough to actually scare him. 
What was your favorite quote, scene, or storyline from this week on Days on Days of Our Lives?
Kpatch: My favorite scene was Victor and Stefano discussing Clyde, and Victor's quip that he and Maggie go square dancing with Clyde and Kate every Thursday. Classic!
Mikey: I loved Paul calling Will out on his "desperate antics" (LOL!) and how he's just going to drive Sonny further away. Other than that, I really enjoyed John's scenes with both of his sons. This guy we're seeing lately reminds me of the real John Black — a lovable hero type, without all the forced, edgy angst.
Christine: I enjoyed how concerned Chad seemed about Abigail when she appeared ill. We got to see lots of emotion from Chad this week and Ben's abs, which is really his only selling point. 
C. Orlando is a TV Fanatic Staff Writer. Follow her on Twitter.