The Bastard Executioner Preview: Lee Jones on Preparing for Role, Game of Thrones Comparisons
Carissa Pavlica at .
Is Kurt Sutter a star maker?
Lee Jones is about to find out.
Starring as Wilkin Brattle in FX's new series, The Bastard Executioner, he's a hardworking actor, dedicated to his craft and doing some of the best work of his career. A stage actor and relative newcomer to the small screen, he's truly getting a chance to shine with the complex character Mr. Sutter has drawn for him.
As the Executioner, Jones must be at once strong, conflicted, emotional and terrorizing among a whole host of other traits that will become clear upon watching The Bastard Executioner Season 1 Episode 1. Find out what he had to say to press recently about taking on the role, series creator Kurt Sutter's vision and comparison to Game of Thrones.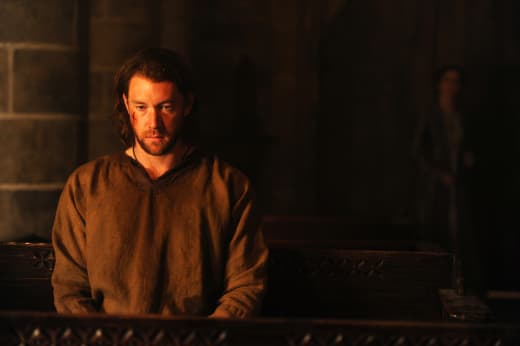 What are you most excited for fans to see on The Bastard Executioner?
I actually think it's the relationships between the characters. I think they are really beautifully drawn by Kurt. There's great subtlety and depth towards that, as well as the epic scale that the show has. I think he, and hopefully we, has done a great job in creating the heart of the show, and that's in the relationships, I think.
Can you talk a bit about some of the props, perhaps the Bastard's sword, that helped you get into the role?
When I had my first fitting, I put the costume on and it really held me in a particular way, and that sort of gave me a nice grounding, I think. That helped a lot. And also the weight of the sword we use when we're not using the safe ones [laughs]. That's great. Getting into the fights, and definitely the physicality of having to do all that stuff informs the character a great deal.
You have an extensive theater background. Not a lot of TV experience, however, in a lead role. How has the adjustment been for you on this show?
It's been one of the best things about this job. Getting to sort of develop a different skill set. You know, I've been craving doing more film and TV, and its been a great lesson in working off instinct and working really fast. And I feel it's allowing me to flex a different muscle and that's been really enjoyable.
What was the most eye-opening part of the experience?
I think the speed of which TV goes. It's definitely been something to which I had to adjust, but it's been great. You know on films, you sit around and think too much, and now you have to trust your instincts, like I said, and working at a great pace can really help you. You can't get in your own way.
Kurt Sutter is best known for Sons of Anarchy, and that was a huge hit in the US. Are you worried about following up the pressure of that series?
No. I think if I thought about that, I would be doing myself and the show a great disservice. I think we've just got to create a unique world and it would only be detrimental to start worrying about things like that. Its like were in a parallel universe over here – and filming such elaborate sets in a fully realized world. Also we're away from Hollywood and that's kind of nice.
What might you say to viewers who want to compare The Bastard Executioner to the highly popular medieval-type show, Game of Thrones?
I think that they're very very different. This is very based in reality. It's not fantasy in any way. There is a very well thought out mythology behind the show which Kurt is developing, but I think this is much more grounded in actual history and it's a very gritty, real, medieval world, rather than fantasy.
Just like in Game of Thrones, it seems like characters on The Bastard Executioner will have to reconcile their own feelings with the world of violence around them. How much do you think this character's internal struggle will inform his choices as he goes along?
That's basically what his journey is, is dealing with his internal struggle and trying to get away from violence. Obviously it was a very violent time. That is what is driving him, to escape from that. His struggle is informing every decision he makes. He's perhaps losing the ability to trust himself and he's a very spiritual man and his spirituality, his faith is wavering at times. He's really trying to come back to the middle and find out who he is at his core. That's really his journey.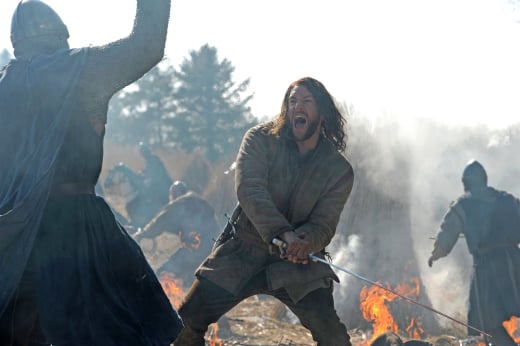 Did Kurt talk to you about his overall vision for the series and what he would like to accomplish with this show?
He has, but it's developing as we go. So, breadcrumbs. He certainly hasn't given me everything, but he's listening to what we do and shaping things as they come back to him.
What have you found to be so fascinating about that time period, and how will it relate to audiences who aren't familiar with the 14th Century?
What we can all relate to is perhaps at times wanting to escape darkness, and at our core the struggle to survive and want to improve things for yourself in life. I think that's what people are going to be drawn into. For me, I think life is so delicate that a lot of drama comes from that. For me that's what I find interesting about that time period – is what was the value of life back then, and just the brutality of it. To play in the world that is unlike the world we're in is satisfying.
Religion plays a very big part in the The Bastard Executioner. How big a part does Roman Catholicism play a part in the show?
Absolutely. There is a bigger mythology that he is laying down that I can't really talk about because it'll be a complete spoiler. It's a backbone to individual characters as well as creating the world. My character is struggling with his faith as a result of everything that is happening to him, but getting back to that is what is driving him forward, and he's trying to find a higher purpose, and that all has to do with his spirituality and religion.
How is it filming on location in Wales?
It's incredible The landscape here in Wales is stunning. The most amazing thing, thought, is the medieval village and castle that was built. It's all so real. It puts everything into perspective when you're there.
Can you tell us about the physical preparation you had to do for the role?
I got cast and then went straight into a two-week boot camp. I hadn't ridden horses before really, and we have an incredibly horse team and also stunt team here. It was just two weeks of nonstop riding and sword fighting. Getting rid of the stage aspects is what I focused on. We also did some boxing footwork that keeps the sword work look quite fluid. Any day I'm on a horse, I'm happy. The scenes sort of take care of itself. Learning the fights, it's an ongoing thing.
Have you already felt that your life has changed? Are you starting to prepare for what that might be?
Definitely. My life changed as soon as I got the job. To have the chance to do this, and to work on something so creatively satisfying and epic, things have gone from zero to 100 very quickly. Everyone's being really supportive. I know things are going to get perhaps crazy. That's what people are telling me.
Are you ready to be a star?
[laughs] I guess we'll find out.
The Bastard Executioner premieres tonight on FX at 10/9c.
Carissa Pavlica is the managing editor and a staff writer for TV Fanatic. She's a member of the Critic's Choice Association, enjoys mentoring writers, cats, and passionately discussing the nuances of television and film. Follow her on Twitter and email her here at TV Fanatic.