The split season curse continued to plague ABC's serialized dramas last night. 
Agent of Shield returned with 3.5 million viewers and a 1.1 rating, marking its lowest ratings ever. The good news is that the show has already been renewed thanks to the episode count and what is needed for syndication.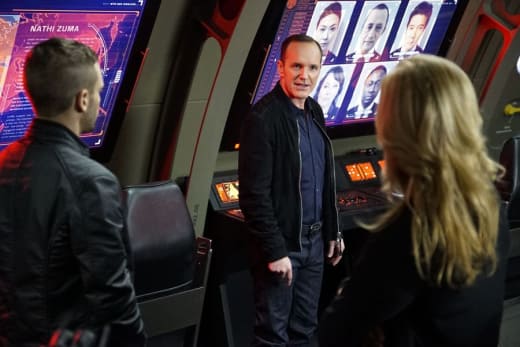 Before that, Fresh Off The Boat hit multi week highs, rising to 4.9 million viewers and a 1.4 rating. Then The Real O'Neals settled into its regular slot with 4 million viewers and a 1.1 rating. This is up on what The Muppets has done in the slot this winter, but it may not be enough to clinch another season. 
The premiere of Of Kings and Prophets came in dead last in the hour with 3.3 million viewers and a 0.8 rating. You should probably cancel it from your DVR. It's toast.
And elsewhere around the dial:
On CBS, encores of NCIS (8.1 million/1.1 rating) and NCIS: New Orleans (8.4 million/1.1 rating) led into an original Limitless (5.4 million/1.0 rating) which fell to a new low. Take those reports of CBS renewing it with a pinch of salt. These numbers are woeful.
On Fox, New Girl (2.7 million/1.2 rating) and Grandfathered (2 million/0.8 rating) were in line with their winter averages, while Brooklyn Nine-Nine (1.4 million/0.6 rating) and The Grinder (1.3 million/0.3 rating) were encores.
On NBC, The Voice (13.6 million viewers/3.1 rating) was solid and that led into the premiere of Little Big Shots (12.7 million/2.9 rating) which surprised with a strong premiere.
And on The CW, it was encores of The Flash (1.2 million/0.4 rating) and iZombie (0.7 million/0.3 rating).
Paul Dailly is a staff writer for TV Fanatic. Follow him on Twitter.