Even after twelve years on the air, ABC's Grey's Anatomy continues to pull in decent ratings. 
The just renewed drama pulled in 7.7 million viewers and a 2.2 rating. This represents an increase from last week's numbers.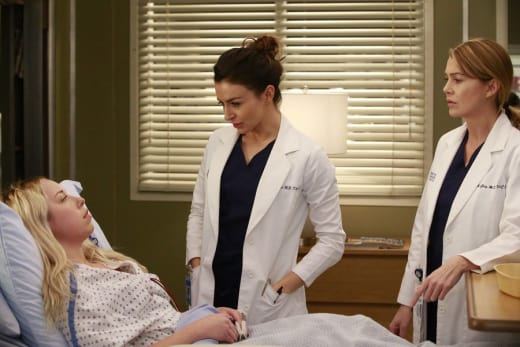 After that, the series premiere of The Family was a dud, premiering with 5.7 million viewers and a 1.5 rating. If the aim of the game was to get the show sampled before settling into its Sunday time slot, it didn't quite work out.
Closing things off for ABC was How To Get Away With Murder which matched a series low of 4.6 million viewers and a 1.4 rating. This show is also renewed!
And elsewhere around the dial:
On The CW, DC's Legends of Tomorrow (2.3 million/0.9 rating) matched it's week ago ratings, but a controversial episode of The 100 (1.4 million/0.5 rating) slipped a tenth.
On Fox, Two hours of the soon to conclude American Idol (8.7 million/1.9 rating) gave the network a second place finish for the night.
On NBC, You Me & The Apocalypse (2.3 million/0.5 rating) hit a new low, while an encore of Blindspot (2.2 million/0.4 rating) stepped in for The Blacklist and Shades of Blue (4.7 million/1.0 rating) was on par with last week.
And on CBS, The Big Bang Theory (10 million/1.9 rating) was an encore. Life In Pieces (8.4 million/1.8 rating) and Mom (8 million/1.7 rating) ticked down, while 2 Broke Girls (6.7 million/1.7 rating) and Elementary (5.8 million/1.1 rating) were even.
Paul Dailly is a staff writer for TV Fanatic. Follow him on Twitter.