Fox's Empire and American Idol pack a punch when paired together. 
The penultimate episode of American Idol of American Idol secured 9.6 million viewers and a 2.2 rating among people 18-49.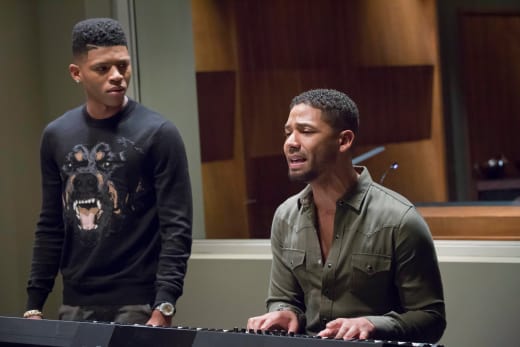 After that, Empire eased six tenths and dropped to 11.3 million viewers and a 4.2 rating. 
And elsewhere around the dial:
On The CW, Arrow (2.2 million/0.8 rating) ticked down, but Supernatural (1.8 million/0.7 rating) was up.
On CBS, Survivor (9 million/1.9 rating) and Criminal Minds: Beyond Borders (7.2 million/1.2 rating) were both down.
On ABC, The Middle (6.9 million/1.7 rating), The Goldbergs (6.1 million/1.8 rating), Modern Family  (7.4 million/2.2 rating) and Black-ish (5.5 million/1.6 rating) were in line with their season averages, but Nashville (4.2 million/1.0 rating) picked up some steam.
And on NBC, Heartbeat (4 million/0.7 rating) flat-lined, while encores of Law & Order: SVU (3.9 million/0.8 rating) and Chicago PD (3.9 million/0.8 rating) closed the night for NBC.
Paul Dailly is a staff writer for TV Fanatic. Follow him on Twitter.