Some fan-favorite characters are making their way back to National City!
Calista Flockhart is returning as Cat Grant for the final two episodes of Supergirl Season 2, while Tyler Hoechlin has been tapped to appear as Clark Kent in the season finale.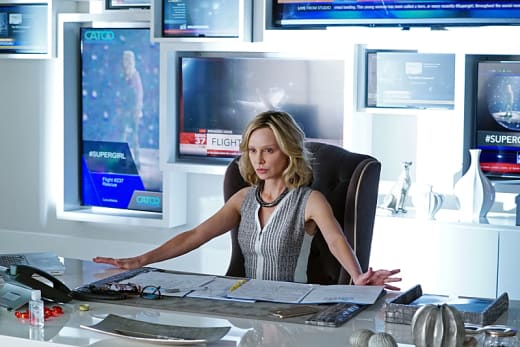 Flockhart was last seen on The CW hit on Supergirl Season 2 Episode 2, after opting against keeping up her series regular status after a change in filming location from Los Angeles to Vancouver. 
The quick-witted character departed her company, leaving it in the trusty hands of James Olsen. Details are scarce about how she will re-appear on the show.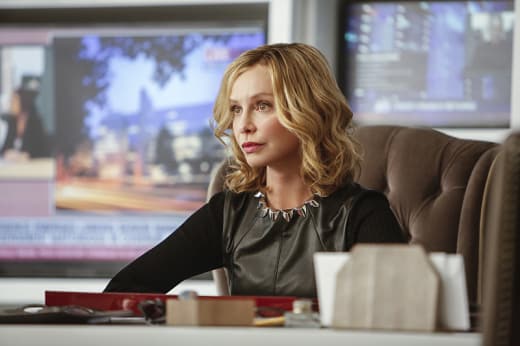 We're sure she'll have a lot to say about Kara being fired from Catco. The two women became very close throughout Supergirl Season 1, with many fans left questioning whether Grant knew about Kara's superhero status. 
Will Cat put Snapper Carr in his place and give her former protégé her long-coveted job back, or is there another reason altogether for the return of the character?
We'll need to tune in for the conclusion of the season. 
Meanwhile, Teen Wolf star, Tyler Hoechlin stepped into the role of Superman earlier this season for a two-episode stint and fans have been clamoring for his return ever since. 
Details are scarce on how his return to National City will play out, but something tells us Kara will call him on to help battle whoever the heck the final villain of the season is. 
During his first appearance on the show, we got to see a thrilling bond between Clarke and Kara. They both really understood one another and came from the same planet, so it will be interesting to see that explored. 
Supergirl previously upped Katie McGrath to series regular status for the recently confirmed Supergirl Season 3. Her character, Lena Luthor has been a draw for viewers as they try to work out whether she is really evil. 
Remember you can watch Supergirl online right here on TV Fanatic. Get caught up on this super drama series now!
Over to you, Supergirl Fanatics. What do you think of this casting news? Are there any other characters you want to see back?
Hit the comments below!
Note: Supergirl Season 2 Episode 18 airs April 24 on The CW!
Paul Dailly is a staff writer for TV Fanatic. Follow him on Twitter.