Watch Private Practice Online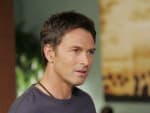 Watch Private Practice Season 1 Episode 2
"In Which We Meet Addison, a Nice Girl From Somewhere Else"
Original Air Date:
Following last May's pilot, which was embedded in an episode of Grey's Anatomy, Private Practice officially debuts on its own September 26. And it promised not to disappoi...
Watch Private Practice Season 1 Episode 1
"The Pilot"
Original Air Date:
"She's gone. " That's all Richard Webber has to say about Addison Montgomery's presence (or lack thereof) at Seattle Grace Hospital. At ...