Designated Survivor Promo: A 24 Reunion!

Jasmine Blu at .
President Kirkman is a broken man.
When Designated Survivor Season 2 Episode 11 returns from hiatus, Kirkman will have to face his most difficult task to date: carrying on without the love of his life.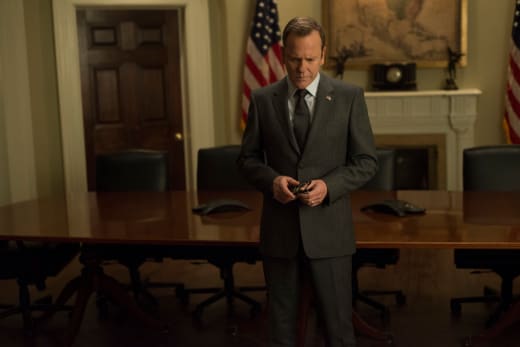 Alex Kirkman was killed in a devastating car accident, and from the promo, it appears as if Kirkman may hold someone responsible. The therapist that his Senior Staff has urged him to see inquires if Kirkman blames someone specifically for the accident. 
We also catch a glimpse of Tom waking a sleeping Penny and tell her the devastating news about her mother passing away. 
Is Tom fit enough to run in a country through his grief? 
If you look closely, you'll see Kim Raver. Raver will play Andrea Frost, and she's expected to make her grand appearance in Designated Survivor Season 2 Episode 12, but the promo gives us a little taste of her. 
Hannah has her hands full, quite literally based on that gun she's holding, but no worries, she can kick ass without one. She's kicking some serious butt in the trailer, but at one point, her opponents may have gotten the upperhand. 
Unfortunately, it looks like Aaron may be in over his head as well. 
Designated Survivor returns February 28. You can watch Designated Survivor online here via TV Fanatic if you'd like to catch up.
Check out the promo for "Grief" below!