Our favorite, dishy, soapy medical drama is back! 
Grey's Anatomy Season 15 Episode 9 will pick up right where the midseason finale left off with Seattle's finest trying to weather a windstorm.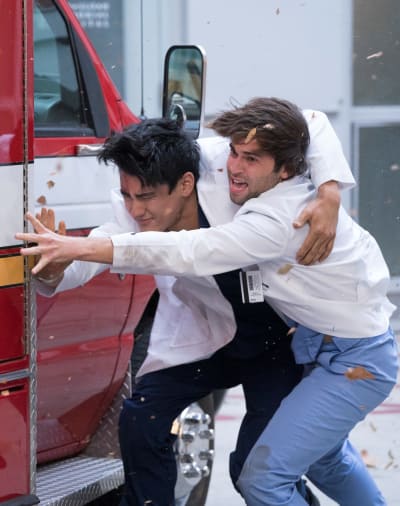 With many of the doctors stuck in elevators or elsewhere, Richard steps into his natural role as chief and oversees the attempts at getting the power going again. 
Richard means business. I wouldn't question him. 
Related: Grey's Anatomy Season 15 Episode 8 Review: Blowin in the Wind
In one elevator, we have the love triangle that no one asked for: Amelia, Owen, and Teddy are stuck together, and Owen just found out that Teddy is pregnant with their child.
From the clip, Amelia has just found out about this baby too. Her reaction is pretty damn comical. Classic Amelia.
Elsewhere, Bailey and Helm are stuck together with Cece who is on borrow time and awaiting her transplant. The worst part is Helm is afraid she is about to have a panic attack. 
That's the last thing she wants to deal with in an elevator.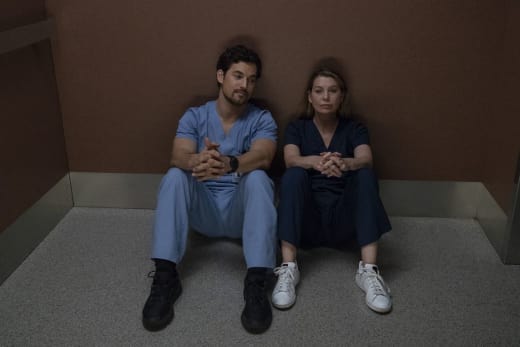 And then there is the last elevator which has Meredith and DeLuca.
There has been a mixed response to this potential (inevitable?) 'ship, but this is the cliffhanger that most people were invested in seeing resolved. 
-Related: Watch Real Lives, Real Stories, & Real Celebrities on Reelz Channel via Prime Video Channels! -
DeLuca's voice is doing that breathy thing that has seemingly developed out of nowhere, and Meredith is pretending as though she doesn't want to jump his bones, and they have a near-kiss.
You know, your standard elevator shenanigans on Grey's Anatomy.
So check out the promo below, and hit the comments. If you missed anything, you can watch Grey's Anatomy online via TV Fanatic. 
Grey's Anatomy returns Thursday!