iZombie Promo: Tanned, Dyed and Fresh to Death!

Jasmine Blu at . Updated at .
Haters Gonna Hate!
Liv is rocking her pre-zombie look on iZombie Season 4 Episode 7.
She briefly gave into tanning and dying during iZombie Season 3 when things were looking bleak before zombies were out in the open.
She quickly chose to return to her pale, bleached look by the season's end.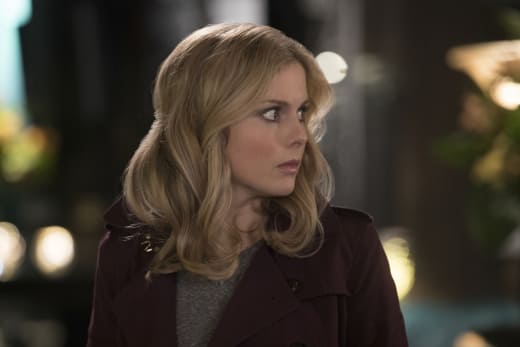 We caught another glimpse of Rose McIver in her natural beautiful state on iZombie Season 4 Episode 6 when she went undercover on a caper in a totally meta moment.
In it, the New Zealand actress played an American zombie, pretending to be a Kiwi, faking an American accent. 
Did you get all that?
Liv: Hey fellers, I'm an American. I never have a passport, and watery beer is the best.
Guard: Wow, you are so bad at American accents.

Related: iZombie Season 4 Episode 6 Review: My Really Fair Lady
Is the look here to stay? Maybe it's something she's embracing along with her new role as Renegade II.  
Playas Gonna Play
It also could be due to her consuming the brain of a playboy.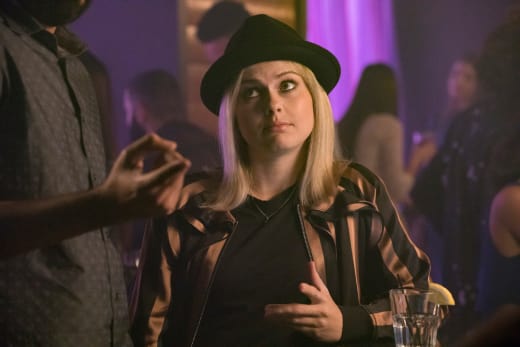 Oh yeah, Liv is going to be that guy. You know the one. One of those far from sexy, but totally sexist, self-proclaimed lothario/pick-up artist type.
The victim played wing-man to some poor sap and probably made a pretty penny teaching others the art of seduction while referring to himself by some generic single word moniker. 
Related: Get Shudder via Prime Video Channels for Spine-Tingling & Provocative Films, TV Series, & Originals!  
This is going to be a ball of fun! 
Clive is in a relationship rut after being forced into an open relationship with Dale and striking out with his first attempt at pursuing another relationship with Michelle. 
Liv+ playboy/wingman brain +  her undying devotion to her bestie, Clive = Nonstop Hilarity. 
It may also be a disaster for poor Clive, but it's not a fun episode of iZombie unless Clive is reevaluating his life and his choices while working with his zany, brainy, brain-loving friends. 

Related: iZombie Season 4 Episode 4: Brainless in Seattle Part 2
That man deserves a medal and a vacation. He also deserves some loving, so maybe Liv will be able to help him out.
I can't wait! Can you?! 
You can watch iZombie online here at TV Fanatic if you need to catch up on the season. 
Check out the promo below and hit the comments with your thoughts!