S.W.A.T. Sneak Peek: Luca's Agonizing Father/Son Moment

Carissa Pavlica at .
While I have very little information on what's ahead on S.W.A.T. Season 1 Episode 9, I know we're in for a treat.
How can I call an episode that calls for Luca dealing with the loss of his grandfather a "treat," you ask?
Allow me to explain.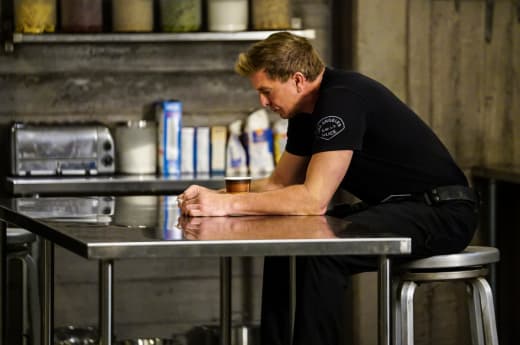 Simply put, there are few actors available today who can crush an emotional scene the way Kenny Johnson can.
As an example, from his first appearance on Bates Motel as the morally confused Caleb, the entire backstory of Norma was thrown into turmoil. 
In fact, I shouldn't even be calling his character morally "confused," but with the performance given by Johnson I couldn't and wouldn't hate the character who was at the center of a very disturbed family.
Now we're going to discover a secret that is threatening the family of Dominique Luca after the death of his grandfather, a S.W.A.T. legend.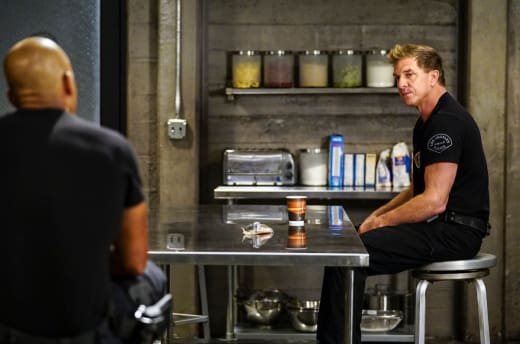 In the exclusive clip below, Luca's father is urging his son to kick aside all of his misgivings about his grandfather, prepare to talk nice about the man, shake a few hands, and put his thoughts together for a video honoring him
Luca appears to want no part of it.
What kind of family secret could Luca have discovered about his grandfather that is so terrible he's willing to tarnish the memory of the man so soon after his death?
Looking at Luca, it's apparent he's grieving. He's struggling with the loss of his grandfather not only in life, but possibly because he lost the man he thought he was.
That's a double whammy nobody should have to deal with during such trying times.
Being asked to lie about the man he was seems to go against the very integrity a good S.W.A.T. team member would live by, and Luca's father is a second-generation S.W.A.T. man himself.
What will Luca ultimately decide to do? Will he decide to struggle with his emotions later and give the men and citizens who could count on the S.W.A.T. legend to keep them safe the memorial they deserve?
Will he open up to his friends? 
Will Kenny Johnson slay every touching scene until we're at the point of tears ourselves? I have no doubt. When you watch the clip below, you'll start to get the feels already.
As if that won't be enough for our sensitive natures, elsewhere on "Homecoming" Hondo will be helping an imprisoned childhood friend by protecting his son from gang violence.
As a result, the team will find themselves in contact with a new local crime outfit.
Take a look at the moving Luca father/son clip below, and watch S.W.A.T. online if you want to see more of the amazing S.W.A.T. stars in action!
S.W.A.T. airs Thursdays at 10/9c only on CBS!