Never mind that Deal or No Deal features 26 beautiful models and comedian Howie Mandel as host. On this game show, the players are the real stars.
A bouncy Eskimo carrying Alaskan snow. A giant man in a kilt. A pair of sisters on roller skates. An Italian dad who can't stop cursing in his native tongue.
These are just some of the colorful contestants who have made the show NBC's biggest hit, reports Sandy Cohen of The Associated Press.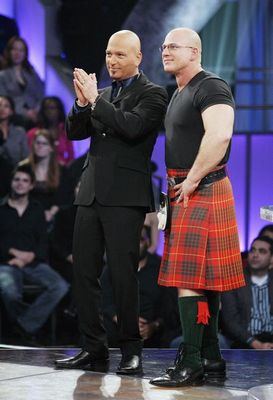 "We're finding these people that we fall in love with," said executive producer Scott St. John. "We're giving them this incredible chance, and it's so much fun to ride shotgun with them."

In the game, a player attempts to win up to $1 million by eliminating cash amounts tucked inside shiny silver briefcases (each accompanied by its own model). At various points during the game, the show's "banker" offers the player a deal - a guaranteed cash payout that would end the case-opening.

With its one-player focus, "we knew right off the bat we would need really engaging people to play our game," St. John said. "Overall, it's someone who is enthusiastic . . . folks who have their emotions out there for people to see."

Contestant Anteia Greer of Dyersburg, Tenn., was so overwhelmed by the banker's $100,000 offer that she threw herself on the floor mid-show. Her friends thought she had fainted.

"You don't pitter-pat with a million dollars," she explained. "You scream and yell, you jump up and down."

Another player's family brought a stack of plates along and smashed them on the floor in enthusiasm each time the banker's offer was announced. One contestant lifted weights during commercial breaks. Another sang karaoke and clog-danced in hopes of upping his offer.

"Originality is everything," said casting producer Neal Konstantini, whose staff of 13 chooses the contestants. "They've got to be fun. They've got to be zany and wild and energetic. I'm not putting on anybody who's going to bore you."

But a good player is hard to find. More than 150,000 audition tapes have been submitted, and thousands turned out for casting calls around the country. Just a fraction of the candidates had what it takes, he said: "Somewhere in the neighborhood of one or two percent actually make it on the show."

Konstantini and his team recently began a nationwide contestant search. Traveling to nine cities in the "Deal on Wheels" bus, they'll see as many as 75,000 potential players - and choose maybe 75.

"I want someone who believes in who they are, who thinks they're great and is not afraid to let themselves go," he said.

That was the near-fainting Greer's recipe for success. After waiting in line for five hours at an open audition in Illinois, the 26-year-old came in "rapping, yelling, screaming and just being completely crazy," she said. "The more silly you feel, the better you're doing."

Producers asked her to return the next day. Six months later, she was on the Deal or No Deal set in Culver City, Calif., accepting a game-ending banker's offer for $402,000.

And she didn't just get paid, she got famous.

"Someone recognizes me every day," she said. "People want me to do autographs, take pictures with their camera phones. I feel like Oprah's baby cousin or something."

Contestant Tammy Fuller also cranked up the crazy at her audition, an open casting call in Fresno, Calif.

"If you have to act like an idiot, I'm first in line," said the 37-year-old mother of three, who sang a country song and did an impromptu "million-dollar dance" during her 30-second tryout. "I love the spotlight on me. I was going to do whatever I had to do to get picked."

More than six months after her audition, Fuller appeared on the show, winning $186,000. Howie Mandel, however, doesn't see the contestants as all that wacky. They're just regular folks in extraordinary circumstances, he said.

"You think they're crazy, they're outrageous, (but) they're you. They're real," he said backstage as a makeup artist powdered his shaved head. "The emotion takes over and we all have it in us. This is the rawest, purest form of humanity that can be seen on television."

Matt Richenthal is the Editor in Chief of TV Fanatic. Follow him on Twitter and on Google+.

Tags: Reality TV