Did you catch this week's Shear Genius installment, Show Me Your Genius?
If not, you can see what went down - and who was voted out - by reading our episode guide.
Below, though, what better source to hear about the show from than its host, Jaclyn Smith? She wrote the following blog on the Bravo official website:
What a wonderful opportunity the contestants were given to learn from one of the greats -- and to learn her signature style, no less. I was puzzled that Lacey decided to do her own take on the "Sally shag." Her cut was nice but it didn't even resemble the shag. You can make it your own after you really know how to do it.
After doing their own shag, I think the stylists realized that it really is a precision cut. You have to know where to slice in because that's what gives it the modern edge. Tyson did great, he really got it. Sally was right when she said that people would pay $600 for that cut. And she should know!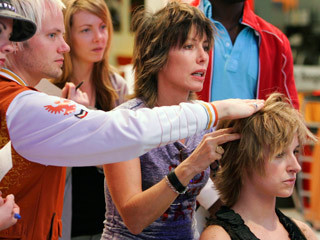 The Long to Short challenge was my personal favorite because of the unconventional tools. All the stylists were brilliant. It's hard enough to do a great cut with good scissors, nevermind garden shears and box cutters. I had a lot of favorites in this one. Evangelin was great; it was so daring of her to pick the hedge clippers. I was in awe â€" I wouldn't want anyone to touch my hair with those.

I applaud her because she wanted to take the most challenging tool. They all stayed cool under the pressure of using unconventional tools. I would have panicked having to put hedge clippers to someone's head. Theodore was one of my favorites -- so I hated to see him go. He is extremely talented and has a bright future ahead of him. I think all good things about Theodore; he's on his way. It is interesting watching the challenges.

They are sort of like a marathon; it really takes you inside the moment. You are watching the stylists make decisions and act on them and sometimes they lose out at something that they are great at because they don't deal with the pressure or they don't handle time well. But that's life; there is always unexpected terrain to go over.

Matt Richenthal is the Editor in Chief of TV Fanatic. Follow him on Twitter and on Google+.

Tags: Reality TV