Kristine Lefebvre Talks About Playboy Spread, Relationship with Donald Trump
by Matt Richenthal at .
With apologies to Stefani Schaeffer, the winner of this year's Apprentice isn't the most talked about contestant this days.
That honor would fall to Kristine Lefebvre. Posing nude in Playboy will garner attention like that. But will the lawyer ditch her day job for the allure of naked photos on a permanent basis?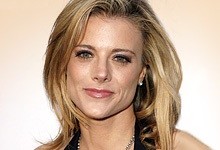 "I'm still and will continue to be a practicing attorney," she said to

TV Guide

. "I hope to use

Apprentice

and

Playboy

to put a face on cervical cancer. Now that there is a vaccine for it, it just seems that people should be aware of its ramifications."

Lefebvre, 37, a Los Angeles lawyer who has negotiated Playboy deals for stars such as Pamela Anderson, is a cervical cancer survivor. Fortunately, the NBC reality show helped her dea with post-illness depression.

"I'm in a state of elation now," Lefebvre says, "The Apprentice truly gave me my life back and I couldn't be happier."

It was only a year ago when Lefebvre was devastated by the hysterectomy she needed to treat her cancer â€" which took away her chance for a much-wanted biological child. Then, six weeks before she joined the show, an adoption she and husband Ludovic Lefebvre had hoped for fell through.

Looking back on the earliest Apprentice episodes, even Kristine was surprised to see how "sunken" she appeared.

Now, she and her husband have been approved for an adoption in China and she's hoping to use the Playboy money to finance a surrogate for the 10 frozen embryos she harvested before her surgery. We wish her nothing but the best in that endeavor.

Meanwhile, despite being fired by Donald Trump, Kristine and the billionaire "have a great relationship [of] mutual respect." And Trump agrees: "I think Playboy has very good taste."

Matt Richenthal is the Editor in Chief of TV Fanatic. Follow him on Twitter and on Google+.

Tags: Reality TV
From Around the Web