CBS has revealed the identities of the 14 houseguests who will be competing in Big Brother 8 and announced a new interactive twist that will give viewers the chance to control the actions of one of the long-running reality show's eighth-season houseguests.
During Big Brother 8's premiere broadcast next, some of the initial houseguests will be surprised to learn that - similar to Big Brother 4's "X Factor" twist - a "rival, enemy, or someone with whom they have unfinished business" will also be entering the Big Brother house the eighth-season contestants will call home all summer.
And if the added pressure of being reintroduced to someone CBS says they "hoped never to see again or someone with whom there is an extreme amount of tension" isn't enough for the houseguests, they'll also have to deal with a new interactive element that will allow Big Brother's home viewing audience to dish out orders like they're the game's Head of Household.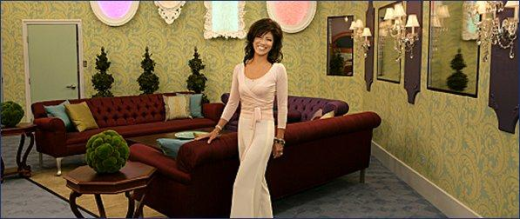 According to CBS, one of the 14 houseguests has been chosen as "America's Player," and beginning with the show's second broadcast on Sunday, July 8, each Big Brother 8 episode will end with the home viewing audience being asked to vote via text messaging or the Internet on an assignment that the as-of-yet still-unidentified "America's Player" houseguest will have to complete.

The task could range from flirting with or voting out one of the other guests. Regardless, "America's Player" must work in secret and at least make an attempt at completing the task asked of them. If the houseguest can successfully complete the task, he'll be monetarily rewarded.

In addition to its usual thrice-weekly broadcasting schedule, this season's Big Brother 8 will also feature a new previously announced live feed that will air nightly on CBS' Showtime Too cable network. Titled Big Brother: After Dark, the spinoff will air nightly from 12AM to 3AM ET and feature footage from the same live camera feeds that are made available to subscribers of the show's 24/7 live Internet feeds.

Big Brother's eighth-season cast consists of seven men and seven women ranging in age from 20- to 44-years-old, with eight of them 26-years-old or younger. In addition, four of the eighth-season houseguests call California home; six hail from the West Coast; and only one of the 14 is married.

Big Brother 8's inclusion of a 20-year-old houseguest marks only the second time in eight seasons that, given alcohol is frequently made available to the show's houseguests, an American Big Brother edition has included a contestant younger than the country's legal drinking age.

Click here to continue reading this Reality TV World article...

Matt Richenthal is the Editor in Chief of TV Fanatic. Follow him on Twitter and on Google+.

Tags: Big Brother