We reported yesterday that Nick D'Agosto had landed the plum role of Claire's boyfriend on the next season of Heroes.
Well, TV Guide just sat down with D'Agosto and discussed the part...
TVGuide.com: Were you nervous when you auditioned, knowing that Heroes is one of the more popular shows on TV?
Nick D'Agosto: I guess there's a little bit of that. I don't want to portray it like I'm different from every other actor and I don't feel nerves when I walk in the room, but at the same time, I felt confident that I knew who this guy was and I knew what I needed to do. So I didn't let the fact that I was auditioning for a high-profile show consume me.
TVGuide.com: Were you already a fan of the show?
D'Agosto: I'd watched it before, but I hadn't watched it a lot. I just moved and I haven't gotten cable television yet. But I watched it a couple of times, and I love the concept. It's also extremely exciting that I get to have a superpower.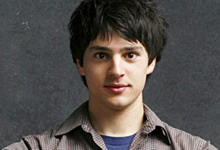 TVGuide.com

: Reports say your character will have a "very cool" superpower.

D'Agosto

: [Laughs] Well, I honestly don't know what that is yet. I only have the few [audition] scenes I was given, about four pages. From what I can tell, you know this kid is confident and mysterious. He's seems to be very comfortable in his own skin. The scenes seem to revolve around a blossoming of [

Hayden Panettiere

's] character in certain ways. I think West will be a facilitator of that. But that's mostly speculation from the little information that I've been given.

TVGuide.com: There are a lot of guys out there who wouldn't mind playing Hayden Panettiere's boyfriend. Maybe West's superpower is that he's great with the ladies. Would you be comfortable as a Super Don Juan?
D'Agosto: I would feel [cheated], because I already possess that superpower in real life. [Laughs] No, I'm just kidding. I think I could handle that power. It would be a burden to bear. I mean, I have a lot to live up to. I'm sure there's going to be a bunch of people who see me with her on the show and they're going to be like, "Who's that skinny punk? Who does he think he is?" So I feel humbled and I will do my best to prove to the male population that I'm worthy of the task.

TVGuide.com: Well, if that's not your superpower, what ability would you like to have?
D'Agosto: I know there's a character that can read thoughts. Playing with time would be an awesome power, but I guess that's already taken. I guess a part of me hopes that the power is darker and a bit more mysterious, one that can be used for good or ill. Rather than having claws come out of my hands or rays shoot out of my eyes, I'd like if it were something psychological.

TVGuide.com: You costarred opposite Marisa Tomei in the CBS pilot The Rich Inner Life of Penelope Cloud. Unfortunately the network didn't pick up the show. A year earlier CBS decided not to pick up a pilot you starred in called Orpheus. Now that you're on an NBC show, is there anything you'd like to say about CBS' judgment?
D'Agosto: [Laughs] Honestly, I'd like to say thank you. I know that may sound odd, but the truth is all the networks are just as tough. I'm thankful about Orpheus, because I got the opportunity to play the lead character in a drama. Then I was thankful that they took me on the following year in a big role on a 30-minute comedy. It made it seem like it wasn't about me. I will say that things work out in favorable ways sometimes. If Penelope Cloud had been picked up, I wouldn't have been able to do Heroes. So for me, things couldn't have worked out any better.

TVGuide.com: You've had roles on TV's ER, Cold Case, Six Feet Under and House, and in the movie Election. When people who recognize you come up to you, what role are they most likely to bring up?
D'Agosto: It's funny, people still recognize me most from Election. When you do a lot of guest spots, you look familiar, but people tend to remember the regulars. For me, it's mostly Election, because it's the type of movie certain people loved and watched numerous times. I've got this movie Rocket Science [coming out later this year] and then Heroes, so I hope that will change.

Matt Richenthal is the Editor in Chief of TV Fanatic. Follow him on Twitter and on Google+.

Tags: Heroes