He was feared inside the boxing ring. But now George Foreman is hoping to scare up some cool toys as a judge on American Inventor.
He recently talked to TV Guide about the gig...
TVGuide.com: Why did you decide to sign on as a judge for American Inventor?
George Foreman: It's strange, because I was a good boxer and I made some money. I had done good with Madison Avenue, doing commercials for McDonald's and Oscar Mayer. Then somebody approached me with a little machine nobody was interested in and I made this venture and put my name on that little machine. It became the George Foreman Lean Mean Grilling Machine and it sold over 100 million units. So I thought this would be a great chance to be a judge and help find that new invention that would do the same thing for someone else. I'd be thrilled to be a part of that.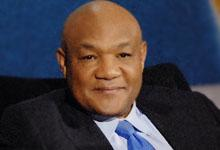 TVGuide.com

: What do you look for in a promising invention?

Foreman

: Well, the grill had been around and everybody had passed up on it until I embraced it, so I'm not looking for something that's going to blow everybody away the first time they get a look at it. I've got to get in there and tell those judges, "Wait, this could be big," even though they might want to pass on it at first.

TVGuide.com: On American Idol, Simon is overly critical, Paula is overly supportive and Randy is pretty much even-keeled. What's your style going to be for American Inventor?
Foreman: It's funny â€" Peter Jones, a tough judge on the show, said, "George, are you going to vote yes or yes?" He's already got me pegged. I'm sure I'll be saying yes to stuff that he can't see working out.

TVGuide.com: Your fellow judge Sara Blakely is known for inventing footless pantyhose. I know you're a good pitchman, but what would you say if Sara propositioned you about endorsing her products?
Foreman: No. [Laughs] I've got to be sincere. What I sell is integrity, and I'm not going to tell somebody to go get something I don't use.

TVGuide.com: That's too bad. OK, how about this: What's a bigger achievement, winning an Olympic gold medal or selling over 100 million George Foreman grills?
Foreman: Man, I was only a 19-year-old boy when I was standing in that ring with a tiny American flag. I was so excited to let people around the world know where I was from. Winning the gold medal was the biggest day of my life. To stand on that platform and have the national anthem play, nothing can come close to that. No amount of money could ever come close.

TVGuide.com: How about your professional boxing career? You were a champion. Did that come close?
Foreman: It was really big being champion of the world, and it was especially big the second time around when I was older, but winning that gold medal as a 19-year-old boy who never had a dream come true â€" I'll still point to that one.

TVGuide.com: You were recently in the news for alleging in your new book that you were drugged before you fought Muhammad Ali in the "Rumble in the Jungle." Why did you wait until now to reveal this?
Foreman: In God in My Corner, I was telling some stories that could help people know how to let go of negative things in their lives. So I told that story. At the time, they couldn't find the urine sample, and I told the press I was doped after the fight, but nothing came of it. Then I told Sports Illustrated about it in a story in 1984. It's been around a long time.

TVGuide.com: Why do you think it's become newsworthy again?
Foreman: I really don't understand it. One great speaker said of the truth, "You knock it down to the ground and stomp on it, it'll always rise again." If something suspicious happens, it's going to always keep coming up. I wrote about it in my autobiography a long time ago, and now we're talking about it again.

TVGuide.com: Do you think you would have won the fight had you not been drugged?
Foreman: Drugged or without drugs, I couldn't have beaten Muhammad Ali. He was too smart for me. When I watch that fight and think about my strategy, what I wanted to do to him, I couldn't have gotten to him. That man was not going to be knocked out. I told him three years ago that I wanted a rematch. He told me, "You crazy." I'll be honest with you: I couldn't beat him.

TVGuide.com: Coming from such a fierce competitor, that says a lot.
Foreman: When you hit a guy with your best shot, and he looks in your face and whispers in your ear, "That's all you got, George?" What can you say?

TVGuide.com: I guess he really was the greatest.
Foreman: He's the best one I ever got in the ring with, I can tell you that.

Matt Richenthal is the Editor in Chief of TV Fanatic. Follow him on Twitter and on Google+.

Tags: Reality TV