He broke the heart of Tiffany Pollard on national TV.
Now, Tango sits down and talks about his reality television experience with AOL. Here are some highlights:
What made you want to try out for a show like I Love New York. Was it because you were trying to help your rap career or did you actually find New York attractive?
Honestly, they kind of found me. I turned them down three times up until I did the show. To this very day, I wish I could tell you why they wanted me to do the show that bad but the casting director really wanted me to do it. My final decision why I did it was because I knew I had no business on the show and I was kind of curious. I wanted to see if a guy like me could go on a show like this and win. I don't promote my music or anything like that on the show. Curiosity got to me. Not even New York herself, I was just really curious about the show.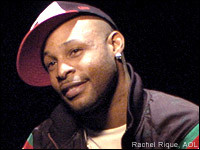 How would you describe yourself?

I'm an activist of all things. I gotta be honest - I'm a take a stand type of person. Another part of me jumping into the reality TV world was the opportunity to put a strong African-American on television in a situation where they don't usually depict us. We are usually comedians and we are doing something very, very silly. I wanted to kind of bring a different element. I'm the type of guy that likes to go against the grain. I like to push the limit.

What was the relationship like off camera between you and the other guys in the house?
The vast majority of the guys got along with me great. Ninety percent of the guys I'm good with. Onix, Rico, of course Mr. Boston. You have the guys that I don't get along with and that was the realist part of the show that people don't understand. The realist part of the show was the relationship between the guys. If you saw they didn't like me, they didn't like me in real life.

Do you feel by going on I Love New York that you are portraying the wrong image to other young black males out there?
I think I'm one of the first people to go on a show like this and say absolutely not. From my fans that write me and leave me messages saying they didn't expect to see a guy act this way or portray yourself the way you were portrayed. There was no way you could have edited how I tried to place myself. I didn't want to be the angry black guy on television. My top question I get is "Why didn't you beat this guy up?" I tell them, simply because someone is watching. I have a mother, I have a grandmother, I got nephews and nieces and I want them to know that you don't have to fall into that category.

How much of I Love New York is real and how much is scripted?
Man, that's really hard to say. People use the word "scripted" as if parts were drawn out. In actuality, the only thing that was scripted was the setting. The only scripted part of the show was the house and the 19 guys going for one girl . To be honest with you, this cast, the guys I was with, that was very, very real. If I had to give a percentage, that show was 85 percent real. This is going to sound arrogant and I can only speak for myself but I was probably the realist part of the show. I'm just a normal guy. I'm not an actor. Ninety percent of the guys on the show were actors. They sent a casting tape. I don't have a casting tape.

On a scale of 1-10, what were you intentions on ever marrying New York?
Before the reunion, on a scale from 1-10, I am going to say a four. Make sure you understand this, the interesting thing about it is that was probably the only sole time on the show where I took leave of my senses and I did something that I knew really wasn't for. I wasn't standing by what I was doing at that point. Forget influence by production. I did it pretty much because I was making a statement. I used marriage to make a statement. Not only did I win, but I really, really won. I kind of used marriage as a pawn and I am totally against that. That's the only time I did something that I really regret. Borderline four, closer to a three.

Matt Richenthal is the Editor in Chief of TV Fanatic. Follow him on Twitter and on Google+.

Tags: Reality TV