This interview may be a bit old, but it's still worth noting. TV Guide spoke with Adrian Pasdar following the episode in which Ali Larter's Jessica is asked to rub his character, Nathan, out...
TVGuide.com: So last we tuned in, Jessica had just gotten her assignment to snuff Nathan. Why do I have the feeling that when the moment of truth comes, those two will end up having torrid sex instead?
Pasdar: Well, we do end up in bed... but not like you think. I can't tell you any more than that, but we do end up on a bed.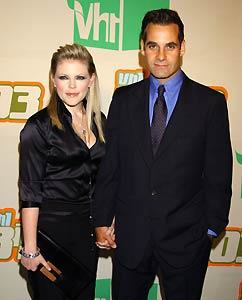 TVGuide.com

: Are you surprised by the amount of support for that couple, based on just that one early-season encounter?

Pasdar

: No. I mean, it's a logical extension of the physical things that we bring to the show. But it does take an interesting turn in Episode 20.

TVGuide.com: Of course, Nathan has that other great pairing, with Masi Oka's Hiro. Do you enjoy having those lighter moments to play?
Pasdar: Yeah, it's fun. Every time there's a script where we have a scene together, they leave a little blank space for us to improvise. It's become a kind of tradition that we get to do that. It's great doing stuff with him, because I think he embodies the unbridled enthusiasm of a child, where I, of course, am saddled with the responsibility of an adult. So the two characters, when we get together, it's interesting.

TVGuide.com: Even before Heroes premiered, we here were making much of the last moments of the pilot, where Nathan swoops in to save Peter. Take us back to when you first read that scene in the script.
Pasdar: I still get goose bumps talking about it. It read just like it played, and that's one thing about the show they have been able to consistently maintain: What they write is exactly what we film.

TVGuide.com: Enigmatic characters, good buzz, ardent fans — you've been down this road before, with the short-lived Profit. Did that temper your reaction to the reception Heroes was met with?
Pasdar: A little bit, yeah. I'm old enough to have been through this a few times, where you're excited and happy, but you also realize it could all go away [snaps fingers] just as quickly as it came. But I'm enjoying it.

TVGuide.com: Do you think your spring 2006 Housewives drop-by played a small but undeniable role in reestablishing your profile and getting you this plum role?
Pasdar: Oh, I don't know... maybe. I'm the last person to ask about that. You'd have to ask my manager. That's the thing, I don't do a lot of press, so people go, "Oh, you went away and came back," but I'm like, "No, I just decided to stop talking to the media for a while. That's all."

TVGuide.com: Could the Housewives role have been longer term, or was it stymied by the fact that your lawyer was macking on a pregnant Gabrielle?
Pasdar: No, I couldn't have done any more than I did, three episodes.

TVGuide.com: Back to Heroes, was there one particularly difficult moment in safeguarding the secret of Claire's paternity all these months?
Pasdar: No, you just can't talk about it. But I had to tell somebody, so I told my 5-year-old. The day I read the script, I said, "Do you want to know a secret?" He goes, "What?!" I told him, and he held the secret the entire time.

TVGuide.com: We've only seen Nathan's wife (played by Rena Sofer) in dribs and drabs. Might we get more of her before the season is up?
Pasdar: I think so. Rena's been busy working on 24, but I believe she'll be back.

TVGuide.com: The Dixie Chicks documentary Shut Up & Sing comes out on DVD Tuesday. Can fans look for any additional coverage of you? [Pasdar's wife is lead singer Natalie Maines.]
Pasdar: I don't know.... They took maybe three years' worth of B-roll, so... I went to great lengths not to be a part of that because that was my wife's thing and not mine, but I was in it. And I know I'm in a lot more than they used, so maybe.

Matt Richenthal is the Editor in Chief of TV Fanatic. Follow him on Twitter and on Google+.

Tags: Heroes