Heroes Cast is Front and Center at Comic-Con International
by Matt Richenthal at .
At the 38th Annual Comic-Con International, fans of the sci-fi and fantasy genres proved they're no longer on the fringe of pop culture.
The mammoth convention, held this past weekend at the San Diego Convention Center, attracted more than 125,000 people. And our beloved cast of Heroes was deservedly front and center.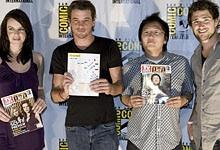 The entire Heroes ensemble appeared and was given a rock-star welcome. Fan favorite Masi Oka (pictured with Bionic Woman star Michelle Ryan, Skeet Ulrich and Matt Dallas) played to the crowd and even showed his geek cred when he helped fix a faulty speaker on stage.

On the first day of the convention, it was officially confirmed that Zachary Quinto, Heroes' slithery villain Sylar, will be playing Spock in the next Star Trek movie (opening December 25, 2008).

"It's really incredible," Quinto said. "To be a part of something so iconic with the support of the man [Leonard Nimoy] who created the role is a true honor... I certainly intend to bring my own spin on Spock, and with these guys I'm sure I'll be able to find that."

The franchise's other big news was the announcement that another Comic-Con demigod, Kevin Smith (Clerks, Mallrats, Jay and Silent Bob Strike Back), will write and direct an episode of next year's spin-off, Heroes: Origins.

After receiving thunderous applause, Kevin Smith gushed about being a fan of the first season, which he says mastered "the art of the cliff-hanger."

It's not yet known what Kevin Smith's episode is about (the spin-off is an anthology of standalone installments, featuring as-yet unknown characters coming to grips with special abilities), but he said, emphatically:

"I don't want to be the guy who ruins Heroes."

Executive producer Tim Kring was effusive in his gratitude to the Comic-Con fans, who last year gave the show its first major buzz. At TV Guide's Hot List panel he acknowledged the power of the cult fans: "This audience was always there, ready to become a mainstream audience."

Matt Richenthal is the Editor in Chief of TV Fanatic. Follow him on Twitter and on Google+.

Tags: Heroes
From Around the Web