Before The Singing Bee premieres tonight, host Joey Fatone talked to TV Guide about the new gig...
TVGuide.com: First off, a friend of mine wants me to tell you that she was "devastated" that she didn't get to see you when the Dancing with the Stars tour came to Bridgeport last week. [Fatone was called away to tape Singing Bee.]
Joey Fatone: Awww....
TVGuide.com: She really wanted to see you and [pro partner] Kym [Johnson] do "Star Wars."
Fatone: We actually didn't do "Star Wars," but we did do the jive and we did our freestyle.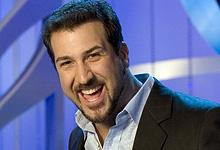 TVGuide.com

: How has the tour been going for you?

Fatone

: It's a lot of fun, actually. You think, "I'm never going to see these people again," and here I am with

Cheryl Burke

and all of them. It's amazing because it's not as much work as the show, where we were rehearsing for five or six hours.

TVGuide.com: It's probably like a summer-camp version of DWTS.
Fatone: Oh, yeah. And people love it. It's fun.

TVGuide.com: Is The Singing Bee the sort of opportunity you wished or hoped you would get after DWTS? We've seen a lot of the show's alumni line up these kinds of gigs pretty quickly.
Fatone: I guess there is a demand for Dancing with the Stars celebs. [Laughs] It was nice for me, it was an open book. Whatever path, I was open to it. I wasn't really trying to do a hosting gig, but they approached me about it, and it's geared toward music and it's a lot of fun. It's an in-your-face way for people to get out there and sing. But if you sing with one word added in â€" a "the," "a" or "well" â€" it's wrong. The great thing about The Singing Bee is that it's not that hard. In the games we taped this past week, five to six people won the [top prize of] $50,000. It's practically giving the money away.

TVGuide.com: Ask anybody I work with: I am usually walking around the office singing a song I more than likely don't know the right words to. Will The Singing Bee offer people like me some comfort, in that "You're not alone" kind of way?
Fatone: Oh, yeah, you're definitely not alone. There are a lot of people who think they know the words to songs but they only know the chorus and not the verses. In one game [of The Singing Bee], you have to sing the whole chorus; another one is like a karaoke where you have to fill in the blanks; and then in the third game, they'll sing a verse and you have to finish it. It's pretty amazing to watch people cringe when they hear the year, then the artist and then the song. We had one guy stand there and when the music stopped he was like, "Ahhhhhhhhhh!" He just screamed.

TVGuide.com: Have there been any instances where someone thought the words were something that made you bust out laughing?
Fatone: Yeah. Sometimes they just put in words that don't even make any sense, or they mumble.... One guy was singing "Sweet Home Alabama" and he sang, "Well, Lord, I'm coming home to you." He thought he got it right but they checked and it's just "Lord, I'm coming home to you." You've got to get it on. The judges listen to it three or four times sometimes. One time, some girl said a word that sounded like the right word, because the phrasing of the word was stretched, but the minute she ended the phrase it was the wrong word. They're pretty tough!

TVGuide.com: How many episodes do we go until someone is tested on an 'N Sync song?
Fatone: I believe that was the first show out of the gate. Of course they had to do that to me!

TVGuide.com: And did the person get it right?
Fatone: I think they got it wrong! [Laughs]

Matt Richenthal is the Editor in Chief of TV Fanatic. Follow him on Twitter and on Google+.

Tags: Reality TV