We've already heard Ali Larter talk about her upcoming movie, Resident Evil: Extinction.
But TV Guide recently sat down with the Heroes actress to talk about another film she's in, the Bollywood flick Marigold...
TVGuide.com: Let's be a bit introspective: Is this the same Ali Larter I spoke to a year ago? Following all this Heroes hoopla?
Ali Larter: Absolutely, absolutely. I love our show, and it has been such an amazing opportunity for me. In this industry we go through so many ebbs and flows, and right now I'm at this great place where I love working on the show and people are responding to it, I have movies coming out that were amazing journeys for me.... It's a fun time.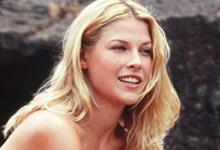 TVGuide.co

m: I saw

Marigold

last night, and it's different, fun, a sort of primer for Bollywood movies.

Larter

: It is, it's a sweet little romantic comedy, and I think it gives people a taste of India. This movie stands on its own in its uniqueness. It's about this little bitter actress who gets [a part] in this Bollywood film; it's a fish-out-of-water story and a comedy of errors when you see the cultures collide.

TVGuide.com: As a career choice, did you figure the rewards outweighed the risk?
Larter: I don't ever worry about risks. The more risk, for me, the better. It was such a fun movie to do. We were working six days a week, 12 hours a day, it was so hot, but I was there and I got a chance to really experience this country. I was blown away by the generosity of the people and the women dressed in these blues and greens and oranges and reds, coming over the desert.... It was extraordinary.

TVGuide.com: My favorite part is when it almost turns into a Bollywood film, in a sort of fantasy sequence.
Larter: Right! It's just so fun. It's a Princess Diaries kind of movie. You can go with a date, or you can grab a bunch of girls and go and have fun.

TVGuide.com: One of Marigold's big obstacles is that she doesn't have particularly great dancing skills for a Bollywood production. Be honest — your own dancing skills going into this movie...?
Larter: [Sheepishly] Terrible. I'm not good. Put me in a club and I can dance till dawn. If you put me in a situation where I have to land on a mark? That presents a bit of a challenge. [Laughs]

TVGuide.com: I told myself that that works, though, since Marigold shouldn't evolve into a perfect dancer.
Larter: That's how I thought about it, also! In a Hollywood movie, you usually have six weeks to kind of rehearse. I had three days and did the best I could.

TVGuide.com

: I also noticed there is no kissing in the film, which makes it marketable in India. [

Marigold

, in fact, is being simultaneously released in India, as well the U.K. and Canada.]

Larter

: There is definitely a modesty in Indian movies. They've perfected the way you can hint at a kiss.

TVGuide.com: I saw that "sneak preview" you hosted on NBC the other night for your other movie, Resident Evil: Extinction...
Larter: Cool. That comes out Sept. 21, and I play the video-game character Claire Redfield. I'm part of this convoy traveling across a postapocalyptic Nevada desert. It's survival of the fittest. Talk about a bit of whoopass! There are zombies and some big guns. Lots of blood. Lots of gore.

TVGuide.com: Let's finish up with some Heroes talk. I understand you're going to be MIA for a bit of this season, as Niki goes to "fix something"?
Larter: I know I said that to Ausiello, but things get blown out of proportion. It's not like I'm missing. They're introducing five new characters in the beginning of the season, and while that's happening we'll all be weaving in and out. But I was just in there shooting Episode 5, and the writers have some unbelievable ideas for my character, so I'm pretty fired up.

TVGuide.com: I was going to say, Niki is due for a reboot.
Larter: Definitely. What makes our show fresh is that we try different storylines. When you make a show that's provocative and fresh, you have to take risks, and some things work and some things don't. The writers are taking a look at the things that worked for my character and we're going to be moving more into that for the second season.

TVGuide.com: A year ago, you weren't at liberty to spell out for me Niki's superpower. Is it now safe to say that her power is the ability to unleash a can of whoopass?
Larter: [Laughs] I love that! That's a great way to describe it.

TVGuide.com: What about the building buzz that we have seen about the last of D.L.?
Larter: You know what? Nothing's real on our show in that way. If you think someone is going away, they'll probably end up coming back. One of the points of our show is that it has a revolving door. Whatever you expect, think the opposite.

TVGuide.com: I just thought that if he was gone, we could start steering Niki back toward Nathan. Or she and Parkman seemed to share a "look" during the finale.
Larter: Yeahhh... I've had scenes with Adrian Pasdar, with Milo Ventimiglia... So who knows?

Matt Richenthal is the Editor in Chief of TV Fanatic. Follow him on Twitter and on Google+.

Tags: Heroes