It's not bad being a pretend super hero.
Earlier this week a dozen cast members began flying the friendly skies for eight days to promote the release of the Heroes Season 1 DVD. Greg Grunberg is across the Atlantic with Ali Larter, Masi Oka and Sendhil Ramamurthy.
"We are having the greatest time ever in Asia," Grunberg told TV Guide. "Tokyo was mind-blowing, and Hong Kong is crazy for the show."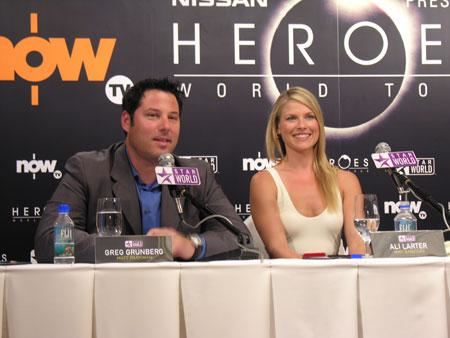 Greg Grunberg and Ali Larter face the Hong Kong media.

The whirlwind tour includes stops in eight countries on three continents, concluding on September 2. Stars were split into three groups of four to meet and greet fans in London, Paris, Munich, Tokyo, Hong Kong, Singapore, New York City and Toronto.

"In Japan, Masi [Oka] and I took a late-night subway ride to Electric Town to shop," Grunberg said. "We snapped nerdy photos of both of us trying to stop time on the busy Tokyo tube. It's good to be the mind-reading cop!"

Matt Richenthal is the Editor in Chief of TV Fanatic. Follow him on Twitter and on Google+.

Tags: Heroes