We now continue with the interview we started yesterday, courtesy of the Televisionary. Let's hear from Pushing Daisies co-stars Chi McBride and Kristin Chenoweth...
Q: You've become known for your dramatic work in such series as Boston Public and The Nine, so what is it like playing a more comedic character?
McBride: I actually started out in comedy in series like The John Larroquette Show and Married with Children and didn't get to do drama until [David E.] Kelley. In this business, you get pigeonholed and have to educate and re-educate people about what you can do. I went out for a part in Undercover Brother and had people say that Chi's not funny. What drew me to [Pushing Daisies] was a single line of Emerson's: "You couldn't have just scooted back?"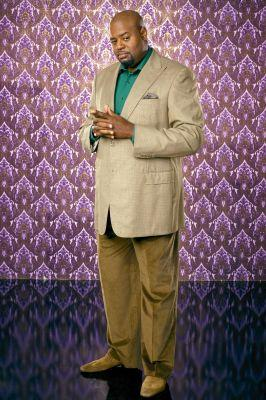 The part is closer to me, he's always got a smart line. I read a lot of mindless, vacuous scripts and wanted to do a smart TV comedy like

Seinfeld

or

Frasier

. It's a no-brainer opportunity to show another side of you.

Q: What excites you most about the series?
McBride: I really love the cast; I couldn't pick a favorite. I have great chemistry with Lee Pace and love the chemistry we share. Emerson is a guy with questionable morals. His main goals are to make money and go home. Lee's character is more empathetic but distant due to his power to bring the dead back to life; he's damaged and looks to Emerson as a father figure.

I really like the way [Bryan Fuller] juxtaposes the way Emerson looks at life with the way Ned does. I knew what this series could be when I read the script and, as soon as I saw Barry [Sonnenfeld] in the room, I knew what it would become. It turned out even better than I imagined.

Q: What's Emerson's back story?
McBride: I had lunch with Bryan [Fuller] and pitched an idea of why Emerson became a private investigator. All of the elements of Emerson's dark/sardonic nature are a cover for something. I told Bryan why I thought Emerson was the way he was and Bryan loved it. The [Pushing Daisies] comic actually deals a little bit with Emerson's story.

And here is what Kristin Chenoweth had to say...

Q: Will you be singing on Pushing Daisies?
Chenoweth: I don't want to sing just because it's gratuitous and expected. But I WILL be singing. It's a sad moment and it involves the dog. Olive just can't understand why she can't get the guy and she's a girl who always gets the guy.

Q: What's it like working with the rest of the cast?
Chenoweth: The dynamic between Anna and Lee is awesome. Usually there's a sour grape in the bunch but there just isn't here.

Q: Do you feel that ABC is behind the series?
Chenoweth: We're very nervous about being the prom queen, we all just want to do our thing. We're very excited about the show. I've been the recipient of when the network really is behind the show and when they're not and ABC is definitely behind this show. I did a show a few years ago called Kristin on NBC and they canceled it after four episodes and replaced it with Fear Factor. At the time I said that Fear Factor would never last. Shows what I know.

Matt Richenthal is the Editor in Chief of TV Fanatic. Follow him on Twitter and on Google+.

Tags: Pushing Daisies