The Winnipeg Sun recently ran a feature on Ed Westwick. How did the paper describe this Gossip Girl hunk? Let's take a look...
If anyone ever looked like the prototypical arrogant rich kid, it's Ed Westwick.
Seriously, the 20-year-old English actor seems to have been made for the role of Chuck Bass in the new youth-oriented series Gossip Girl, which debuts tonight on CTV and tomorrow on CW, which is the show's American network of origin.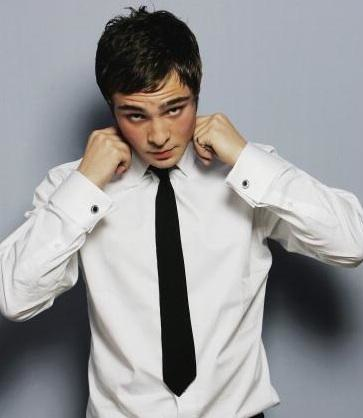 Imagine Saturday Night Live alumnus Jimmy Fallon crossed with Eddie Munster, and Westwick's snooty, leering, evil mug should come to mind.

Not that Westwick himself is snooty, leering or evil. But his character on Gossip Girl is all three of those things.

"So how dark do I go? Wow, I don't know," Westwick said when asked about where the despised Chuck is headed. "That's something that will be revealed.

"It certainly seems that Chuck is very dark in the first instance. But as the story develops and as more episodes come out, we will see different sides, I'm sure. The complexity of the human personality is that we're not all just one-sided."

The main story of the show pits young hotties Blake Lively (Serena) and Leighton Meester (Blair) against each other, with Chuck aligning himself with Blair and her crueller tendencies.

"The bad guy and the bad girl add an interesting dynamic to the cast and to the characterization of the whole show," said Westwick, who trained at the National Youth Theatre in London, England, and still resides near that city.

Click here to read the rest of the article.

Steve Marsi is the Managing Editor of TV Fanatic. Follow him on Google+ or email him here.

Tags: Gossip Girl