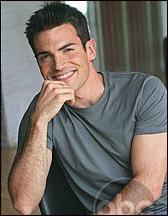 Aiden Turner is a veteran of the
All My Children
world.
Still, many fans might not know the following facts about the actor:
He can be found on the cover of the novel The Doctor's Secret Child by Catherine Spencer.
His three favorite movies are The Shawshank Redemption, Back To The Future, and Liar, Liar.
He played rugby in college.
His favorite author is John Grisham.
Birthdate: April 2, 1977
Years On Show: 2002-present
Marital Status: Married to Megan Marshall as of April 8, 2006
Children: None
Awards: Nominated for a Younger Lead Actor Emmy in 2003