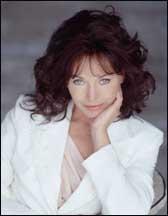 Lesley-Anne Down maybe a longtime soap opera actress, but do
The Bold and the Beautiful
fans know all there is to know about this star?
Find out for yourself by checking out the tidbits below:
She was boted Britain's Most Beautiful Teenager in 1970.
She loves to host dinners with her neighbors.
She has an extensive collection of Victorian children's books, which she's collected since age 15.
Moved to the United States permanently in 1981.
Enjoys reading biographies, gardening and walking along the beaches and trails of Malibu, where she lives.
Loves chocolate and sour worms.p Roles
Other television role for Down include:
Days of Our Lives (Lady Sheraton, 2001)
Sunset Beach (Olivia Richards, 1997-'99)
Dallas (Stephanie Rogers, 1990)