Looks like there's one super power actors on our favorite show share: an immunity to Heroes spoilers.
Despite all attempts at cajolery, four cast members and an executive producer, in Canada this week to promote Heroes, kept the secrets of the series' second season to themselves. It's not an easy task when being peppered for information.
"It's really cool that they're actually letting us do it, to actually stop production for a week and go and interact with the fans. I mean, we're really such a fan-based show, and this kind of interaction is so important," said James Kyson Lee, who plays Ando. "The fact that we're going all over the world because the show is showing globally now, it's such a huge component."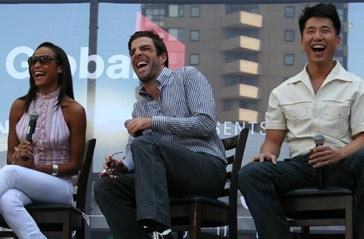 Heroes

has just finished filming the sixth episode of the new season.

Along with Lee, the Toronto contingent included Zachary Quinto; Noah Gray-Cabey, and new cast member Dania Ramirez. Executive producer and writer Jeph Loeb also came along.

The man who portrays Sylar (Quinto) talked about the infusing of guest stars this year.

"It's great to have new energy on the show," said Quinto. "Everybody on this show knows that means forgoing some of your own exposure to include other people, and that's really an important part of our ensemble... I don't think there's anything but excitement about the new people coming aboard."

Dania Ramirez joins the regular cast as Maya, a woman whose powers are connected to her twin brother. But she won't reveal much about her character.

"She is found in Central America, and she is on the run because of her ability and it's making her journey up north a lot more difficult, because she's coming to America illegally and with her brother."

Of course, having such a large cast means that characters can become expendable. Is one of them Micah?

"There is one thing that I would like for my character this season. I would like him not to die," said Gray-Cabey.

Meanwhile, there's one secret or spoiler that Quinto himself doesn't even know.

"I feel like the mystery is the fun of the show, the fact that people are always like `Do you eat them? How do you eat them? You must eat them. You don't eat them, do you?' That's kind of cool and the lure of this character and the show," he says. "It's indicative of the water cooler nature of the show."

SOURCE: The Toronto Star

Matt Richenthal is the Editor in Chief of TV Fanatic. Follow him on Twitter and on Google+.

Tags: Heroes, Spoilers