We've already introduced Heroes fans to the following new characters and actors. But Entertainment Weekly has a helpful new feature on them in its latest issue, so we wanted to provide even more insight with it...
MONICA DAWSON
(Dana Davis)
Monica enters in episode 4 from New Orleans with an unspecified ability. She works to support her brother and grandmother (Nichelle Nichols), while developing a bond with her cousin Micah (Noah Gray-Cabey).
''She's a good girl with a good heart,'' says Davis. ''Her life's been taken from her, and she's looking for a way out.''
ELLE
(Kristen Bell)
Tim Kring calls this character ''a little unstable'' and ''a cautionary tale of what our Heroes could become.'' Does that mean Elle could be a villain? She reportedly has ties to the Petrelli clan and the Bennets.
''Elle has trouble knowing right from wrong. She holds a piece of Claire's future,'' says Bell, who admits, ''Heroes was the watercooler discussion at Veronica Mars.''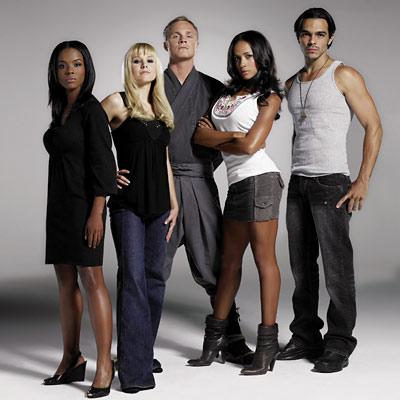 TEKEZO KENSEI
(David Anders)
In reality, turns out that Hiro's Hero isn't the ancient legend he's hyped up to be. According to Anders: ''He is a drunk Englishman and a hired hitman, essentially.

But he does have powers, and when they're revealed, Kring says, ''they'll have major ramifications for the entire Heroes world.''

MAYA HERRERA
(Dania Ramirez)
The abilities possessed by twins Maya and Alejandro work in tandem. Ramirez was actually unfamiliar with Heroes when she auditioned, but got hooked when she did her homework.

''I couldn't leave my house. My dog was looking at me like 'Please walk me.'''

ALEJANDRO HERRERA
(Shalim Ortiz)
As we meet Alejandro and Maya, they're on the run from the law, forced to flee the Dominican Republic because of the destructive nature of their powers.

''We are harming a lot of people with whatever it is that goes on with us,'' says Ortiz. ''We are on our way to the U.S. so we can get answers. Our story starts with a punch.''

Matt Richenthal is the Editor in Chief of TV Fanatic. Follow him on Twitter and on Google+.

Tags: Heroes, Spoilers