It's almost Emmy Awards week, which is great, except that perhaps the four best shows all year — Friday Night Lights, Battlestar Galactica, The Wire and The Shield — accumulated a meager six nominations... total.
To correct this injustice, Entertainment Weekly presents The Gluttys, given to the most egregious Emmy snubs of the year. Let's take a look...
Best Series, Drama
The nominees: Battlestar Galactica, Friday Night Lights, The Shield, The Wire.
And the Glutty goes to... The Wire! It wasn't just the best drama of the year, it was perhaps the best drama of any year. An engrossing look at cops, crime, politics, and education, and how they intersect in ways we never imagined.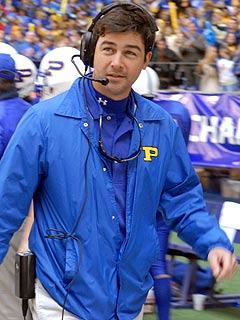 Best Actor, Drama

The nominees: Kyle Chandler (

Friday Night Lights

), Eddie Izzard (

The Riches

), Ian McShane (

Deadwood

).

And the Glutty goes to...

Kyle Chandler

! Clear eyes, full hearts, can't lose! Except, apparently, when it comes to the Emmys. Indeed, Kyle Chandler's snub is mind-boggling to many.

Best Actress, Drama
The nominees: Connie Britton (Friday Night Lights), Annabeth Gish (Brotherhood), Mary McDonnell (Battlestar Galactica).
And the Glutty goes to... Annabeth Gish! As a cheating addict-politician's wife, Gish was last summer's biggest surprise. Well, second biggest, if you include Tuesday Night Book Club making it onto a network schedule.

Best Supporting Actor, Drama
The nominees: Jack Coleman (Heroes), Walton Goggins (The Shield), Gerald McRaney (Deadwood).
And the Glutty goes to... Walton Goggins! In a naked and raw performance (literally and figuratively), Goggins mesmerized as a cop haunted by his past.

Best Supporting Actress, Drama
The nominees: Elizabeth Mitchell (Lost), CCH Pounder (The Shield), Sonja Sohn (The Wire).
And the Glutty goes to... Elizabeth Mitchell! Katherine Heigl over her? Really? As fertility doctor Juliet, Mitchell was savvy, intelligent and complex — all the things that Emmy succeeds so well in overlooking.

Matt Richenthal is the Editor in Chief of TV Fanatic. Follow him on Twitter and on Google+.

Tags: Friday Night Lights