As Pushing Daisies moves along, fans might get annoyed by one tidbit: Will Ned and Chuck truly never kiss?
Considering the fact that any re-touching of his deceased love will cause her to die, it seems reasonable to assume that this will be a never-ending, possibly-annoying story line on the show, right?
Not entirely, claim creator Bryan Fuller and star Lee Pace.
They gave The Chicago Sun-Times a brief glimpse into one Pushing Daisies spoiler: how will these two lovers ever connect?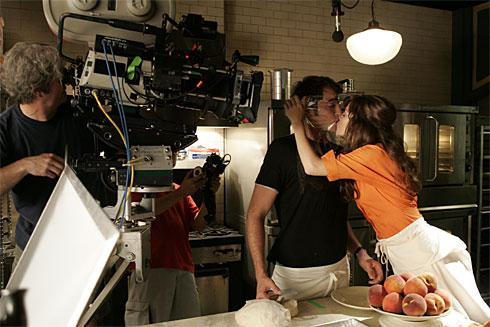 Fuller does say he's "steering right into" the unrequited love frustration: "We're doing an episode that's a procedural," he told the newspaper, "with dog breeders. So Chuck and Ned are surrounded with sex."

But they won't be able to actually have any themselves, right? Pace points to episodes that will see the couple using unsexy "prophylactics," such as when they kiss covered in Saran Wrap or wearing protective suits.

Like bear suits?

"I don't think we'll get that kinky," Pace said.

"Them dancing in bee suits, with bees swarming around them, is more our speed," Fuller said.

Matt Richenthal is the Editor in Chief of TV Fanatic. Follow him on Twitter and on Google+.

Tags: Pushing Daisies, Spoilers