In anticipation of Season Two of Friday Night Lights (which premieres this Friday), we're taking a look at each of its 10 terrific stars to help the show's growing legion of fans learn more about each of them.
Last week, we profiled Adrianne Palicki, who plays the sexy, surprisingly complex Tyra Collette. We've saved the best for last in Kyle Chandler, who plays Dillon Head Coach Eric Taylor and rounds out our Spotlight feature.
Kyle Martin Chandler was born September 17, 1965, in Buffalo, N.Y., the son of Sally, a dog breeder, and Edward, a farm owner and pharmaceutical sales rep. He was raised in Loganville, Ga., and went to the University of Georgia.
Kyle Chandler's first major TV role was as the Cleveland Indians right fielder Jeff Metcalf in the ABC show Homefront, a drama set in the late 1940s.
In his next TV role, Kyle played a man who had the ability to change future disasters as the central character in the CBS series Early Edition.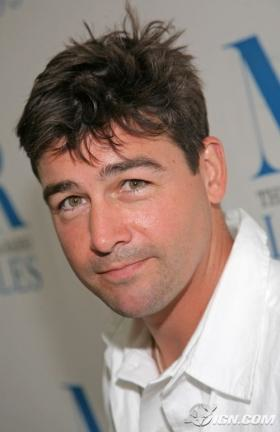 As bar owner Gary Hobson, a stockbroker turned hero who received tomorrow's paper today, Kyle received the Saturn Award for Best Actor on Television.

Subsequently, Chandler appeared opposite Joan Cusack as investment banker Jake Evans in the short-lived ABC comedy series What About Joan.

In what was an unlikely departure from his usual good guy roles, Chandler played scheming lawyer Grant Rashton in the short-lived series The Lyon's Den.

His older brother, Brian, is an attorney in Houston, Texas. In Kyle's brief stint on The Lyon's Den, Brian would offer tips on how to act like a lawyer and served as a model for some of Kyle Chandler's mannerisms on the show.

In February 2006, Chandler appeared as ill-fated bomb squad leader Dylan Young in "It's The End of The World..." & "... As We Know It," a two-part episode on the ABC series Grey's Anatomy that followed the Super Bowl.

Chandler received substantial notice and press for the appearance as a result and subsequently received a nomination in the Outstanding Guest Actor in a Drama Series category for the 58th Annual Primetime Emmy Awards.

He appeared again on Grey's Anatomy as the same character in the following season, in which Meredith Grey sees him during a near-death experience, in "Drowning On Dry Land" and "Some Kind of Miracle."

Kyle and his wife of 12 years, Katherine, a television writer, live in Los Angeles with their daughters, Sydney and Sawyer, and their terriers, Buckley and Otis.

Matt Richenthal is the Editor in Chief of TV Fanatic. Follow him on Twitter and on Google+.

Tags: Friday Night Lights