Welcome to our sixth Heroes Round Table.
While fans of the show gather in the Dianna Agron]? Why does nothing happen on this show!?
Timex: I actually enjoyed the prank on the bitchy cheerleader. Claire needs to learn to respect her dad, he is kind of the man. See question 4.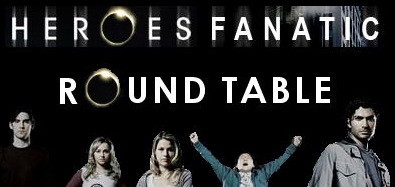 Bob's gift of an iPod to Monica: Kind gesture with no strings attached, or part of an evil plan, chock full of ulterior motives?
Milover: Ha, try Option B. Like a payday loan that promises instant cash but is loaded with crippling interest rates on the back end, this iPod is a gift chock full of ulterior motives if there ever was one.
Timex: Bob seems like a good guy. I have nothing but trust for The Company and the virus that they'll release on New York City. Now the important question is: why didn't he give her an iPod touch? Clearly money is not an issue for a man with the Midas Touch.
A. Hiro: I think Bob just wants to make sure Monica is listening to the appropriate tunes as she transforms herself into the ultimate fighting machine. We recommend "Kung Fu Fighting" by Carl Douglas.
Who will die first: Alejandro, or viewers from the sheer boredom of his, Maya's and Sylar's story line?
Timex: Wow, last night I feared it was going to be me. Can we friggin cross the border already and have something happen? How many episodes must we drag this journey out?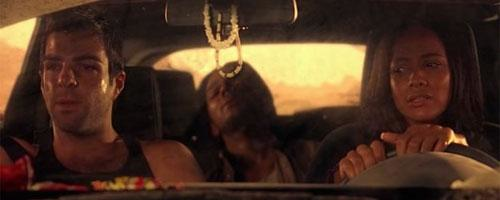 A. Hiro

: Alejandro is a goner. We know this much for sure. After all, Sylar gave the audience a little speech about it, one that actually was necessary because we were starting to forget that this guy was evil in the first place. Remember when he actually did stuff? That was awesome.

Milover: Alejandro... if only so the story line will also be put to death, this saving millions of viewers from this fate. That ultimate sacrifice would make him a hero among Heroes.

Mr. Bennet is The Man. Discuss.
A. Hiro: Let's just say I hope Ivan is correct and that there's no going back now for H.R.G. Who would ever wanna see this intriguing, bad ass of a character act in any other way?

Milover: He so is! With a hilarious Masi Oka and the rippling biceps of a shirtless Milo Ventimiglia, it's very easy to overlook the job Jack Coleman does as Mr. Bennet. Yet he's become one of the most compelling characters on the show, week in and week out. I'm curious to see who he shoots next!

Timex: Wow. Anyone who didn't think Mr. Bennett was The Man surely had to become a believer last night. We still don't know if Noah has a talent yet, but even if not, who cares, he sure has the talent of torture. Oh, and a Haitian friend.

Matt Richenthal is the Editor in Chief of TV Fanatic. Follow him on Twitter and on Google+.

Tags: Heroes, Round Tables