Thanks to Kristin of E! Online for the following Heroes spoilers...
Sources tell her that Takezo Kensei (David Anders) will move to the future - but not by teleportation. He'll be 400 years old! Kristin then wonders if Kensei and Claire are related because they look alike and share the same power.
We just wonder if he'll need a walker.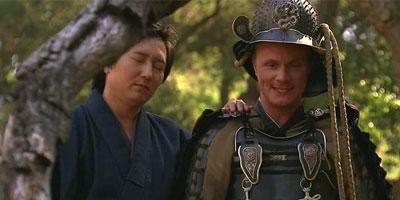 Meanwhile, Nick D'Agosto (West) says of what's ahead for his character: "Now, all of the sudden it's romance, romance, romance, and then from there, hijinks ensue. He's kind of mysterious and dark, but has a real genuine side in him that wants to find out more about his power, and he's deeply engaged in finding out more about Claire."

We'll say it again: we do not trust this guy.

Finally, fear not Mr. Bennet lovers: Jack Coleman isn't going anywhere. He recently said the Bennets don't take well to being messed with. You hassle one, you hassle all.

So look out for the revenge of Mr. Muggles!

Matt Richenthal is the Editor in Chief of TV Fanatic. Follow him on Twitter and on Google+.

Tags: Heroes, Spoilers