In the latest issue of TV Guide, we're taken behind the scenes of Pushing Daisies.
Here are a handful of secrets about our new favorite show that make us look forward to tonight's episode even more...
1. Pushing Daisies bloomed out of a never-realized storyline for Show­time's Dead Like Me. The protagonist of creator Bryan Fuller's previous death-centric series, Grim Reaper George, "was going to find out she wasn't able to collect some souls because somebody was coming along and bringing people back to life [with a] touch," he reveals.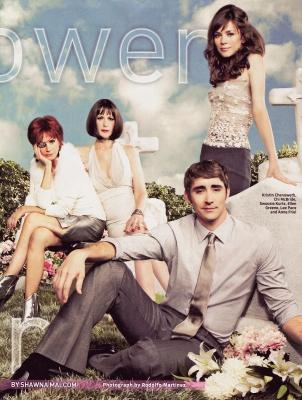 So when he left Dead to do the short-lived Fox series Wonderfalls, Fuller tucked the idea in his back pocket until last year, when he was charged with coming up with a new show for Warner Bros. To flesh out the tone, he found himself drawing inspiration from one of his favorite films, 2001's whimsical

Amélie

.

"Really sad things happen in it," Fuller explains. "But you never get bogged down in the sadness. Like Daisies, it's really about human kindnesses."

2. From its hyperactive color palette to its fantastical sets and props, Pushing Daisies looks like nothing else on TV. And that's ex­actly how production designer Michael Wylie wanted it: "My goal was a storybook come to life. I wanted everything to look almost like an illustration." He achieved it by concentrating on "conflicting patterns in different colors," particularly reds and oranges, but per director Barry Sonnenfeld, virtually no blues.

One of his proudest creations is the "vaguely Parisian" Pie Hole — built, naturally, in the shape of a pastry — where Ned works. There, no detail is too small. Its mouthwatering tarts "are all real," Wylie reports. "There's a chef that comes in and [makes] new pies every time we shoot there."

3. Fuller had Lee Pace in mind to play the gifted/cursed Ned when he sat down to write the pilot. He'd cast the 28-year-old Oklahoma native on Wonderfalls and felt confident he could "bring the material to life in a way that didn't feel like the written words were so written." There was just one problem:

"I wasn't looking at TV," remembers the then-film-focused actor, who appeared in The Good Shepherd with Matt Damon. "His agents shut the door in our faces," Fuller says bluntly. Ultimately, Pace's manager interceded. "The more I thought about it," Pace says, "I couldn't see this going wrong." So far, he's been right.

4.

Anna Friel is a stage-trained British actress who made her first stateside splash in Closer on Broadway

. Little surprise, then, that Friel brings dedication and theatricality to Pushing Daisies' set. She speaks in an American accent at work, even when she's not filming, "to stay in character," she says. And before each scene, she performs a curious little routine that includes pumping her arms furiously like she's running in place:

"It gets my energy going."

The trick — which Sonnenfeld has dubbed "the Anna" — has proven as infectious as Chuck's fizzy optimism. Says an amused Friel, "Lee and the aunts [Swoosie Kurtz and Ellen Greene] do 'the Anna' now, too!"

5. Pushing Daisies has more imaginative curveballs in store. This week, sparks will fly between Chuck and a man with a prosthetic arm, while pint-size Pie Hole waitress Olive (Kristin Chenoweth) is revealed to be a former jockey in the upcoming Halloween episode.

But there's at least one development you'll never see if Fuller has his way: an explanation of why or how exactly Ned got his life-and-death abilities. "I really would like not to," the executive producer says of creating an elaborate mythology. "Then all the fun goes out the window."

And that's one thing Pushing Daisies couldn't grow without.

Matt Richenthal is the Editor in Chief of TV Fanatic. Follow him on Twitter and on Google+.

Tags: Pushing Daisies