Cameron Mathison really wanted to do well on Dancing with the Stars last night. You could feel it, as he promised: "This is my week to bring home a 10!"
It didn't work out quite so perfectly, however.
Dancing the Viennese waltz to "Hedwig's Theme" from the Harry Potter movies, the All My Children stud and Edyta Sliwinska started out strong. But Len wasn't wild about Cameron's choice to bare his chest in a non-Latin routine and the three nines from judges were solid - but fell short of the soap opera hunk's goal.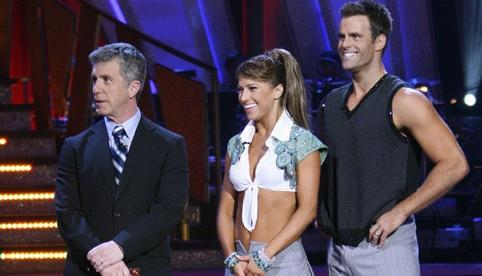 Next up was the Cha-Cha. This is when it went downhill for the couple.

Mathison struggled in the finesse department, as Carrie Anne said: "You hit the lines and they're beautiful. It's all the in-between moves you need to work on."

Len simply found it wooden and "dancing by numbers."

When the set of eights were revealed, the disappointment showed on Cameron's face. But he took some solace when the audience booed the judges and simply replied: "I thought I did alright."

So did we. But he's gonna need your vote to remain in the competition.

Matt Richenthal is the Editor in Chief of TV Fanatic. Follow him on Twitter and on Google+.

Tags: Soap Operas